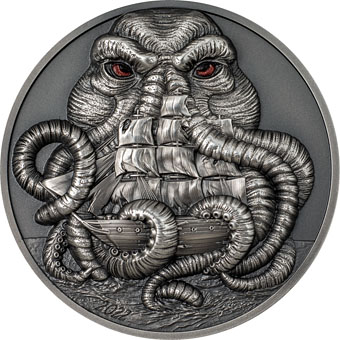 For mysterious and eldritch reasons the Republic of Palau has minted a Cthulhu-themed 20 dollar coin. Via.
• "Pre-gap tracks are a CD-specific phenomenon, paralleled only by DVD Easter Eggs, or hidden levels in a computer game. On the one hand, they're only possible digitally, on the other, they seem to be an attempt to add some mystique to a circle of plastic." Daryl Worthington on the 40th anniversary of the Digital Audio Compact Disc. Regular readers will know that CD has been, and remains, my favourite musical format for reasons I won't bother arguing here. Related: Wikipedia's list of albums with tracks hidden in the pregap. Also: "There's endless choice, but you're not listening": fans quitting Spotify to save their love of music.
• "Meek's use of sound effects and swathes of ghostly reverb, woven into seemingly innocuous pop songs and rock and roll instrumentals—as if the BBC Radiophonic Workshop was directed by Phil Spector—created a sense of the sublime and hinted at strange realities beyond our own." Mark Pilkington explores the strange world of Joe Meek.
• "Structured as a 'dream within a dream', the narrative weaves together mythological, biblical, and occult references to construct a universe filled with ruinous landscapes and orgiastic celebrations." Demetra Vogiatzaki on the enigmas, architectural and otherwise, presented by Hypnerotomachia Poliphili (1499).
The man who made this absurd noir was answerable neither to studio nor Shakespeare, but only his own monumental whims. Thus, Mr. Arkadin sends Citizen Kane (1941) through the looking glass—the action transposed to post–World War II Spain and given a spin somewhere between metaphysics and megalomania…

If Jean Cocteau's Orpheus recast myth as pulp, Mr. Arkadin elevates pulp to myth. It is the most Borgesian of Welles's movies. Writing in Cahiers du cinéma, the young Eric Rohmer compared Mr. Arkadin to Jules Verne and Fantômas: It creates something that is ­nearly impossible today: a romantic fiction that involves neither the future nor any removal from one's usual surroundings…

J. Hoberman writing in 2006 about Orson Welles' Mr. Arkadin (1955). I was rewatching the film earlier this week in its guise as Confidential Report, the version re-edited by its producer to try and create something with greater commercial appeal. I've yet to see the recent restoration but even in its butchered form it's a fascinating piece of work
• Early Cormac McCarthy interviews rediscovered: "Between 1968 and 1980, he gave at least 10 interviews to small local papers in Lexington, Kentucky and east Tennessee, a region where he lived and had friends."
• New music: Perceptions by Model Alpha (Jonathan Fitoussi & Julie Freyri), and Epektasis by Nicklas Barker.
• Dreams of Space: Books and Ephemera; "Non-fiction children's space flight stuff 1945–1975".
• At Dennis Cooper's: Roget Malot presents…Spirit Photography Day.
• Mix of the week: A mix for The Wire by FOQL.
•Spirit (1978) by Frédéric Mercier | Spirit (1990) by Jah Wobble's Invaders Of The Heart | Spirit Level (Lost In Space) (1992) by Horizon 222