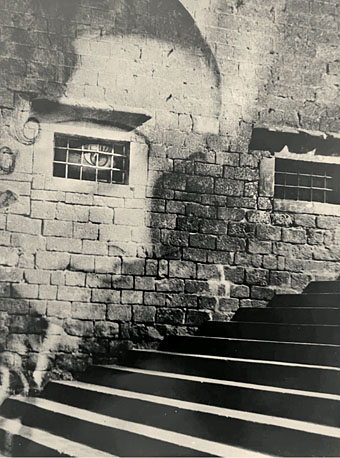 Ascending to the Cathedral, Barcelona (1938/1960) by Kati Horna.
• The rise and fall of Kowloon Walled City, Hong Kong's infamous urban monolith. Related: a four-and-a-half-hour walkthrough of Stray, a game in which you help a cat escape from a deteriorated robot-filled housing complex.
• Quote of the week: "The true master requires the precision of a poet and the imagination of a scientist." Thus Vladimir Nabokov at Lawrence Weschler's Wondercabinet.
• New music: Orion Nebula by Christian Wittman, and Chthonic by Lawrence English & Lea Bertucci.
Chapter by chapter, Flaubert lampoons his poor pair, who fail at discipline after attempted discipline: landscape architecture, anatomy, history, literature, phrenology, religion, even love, and on and on. In each pursuit, they never lose the optimism or the hubris of thinking they can put their knowledge to work in the world. When they become interested in pedagogy, they adopt a pair of abandoned children who are at turns mystified by and contemptuous of their efforts to improve their well-being. The fruit trees fail, the novel is abandoned, a cat is boiled alive, the children cause scandals.

David Schurman Wallace explores the hazards of distraction with a detour through Flaubert's Bouvard and Pecuchet
• At AnOther: Peter De Potter's new book explores the erotic performance of social media.
• At Dennis Cooper's: Hobart LaRoche presents…15 experimental video games.
• Take a look at a book chronicling the albums of Island Records.
• At Colossal: Gabriel Schama's laser-cut plywood reliefs.
• Orion (1986) by Metallica | Shades Of Orion (1993) by Shades Of Orion | Orion (2001) by Jah Wobble and Bill Laswell