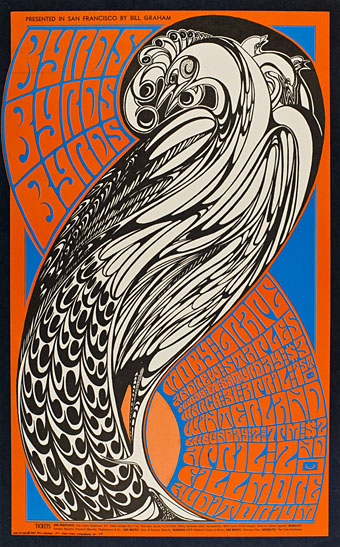 The Byrds (1967) by Wes Wilson.
• RIP Wes Wilson, one of the first of the San Francisco psychedelic poster artists of the 1960s, and also one of the more visible thanks to the popularity of his compressed type designs, some of which were derived from a style developed by Alfred Roller for the Vienna Secession circa 1900. When Playboy magazine wanted a cover that reflected the psychedelic art trend in late 1967 it was Wilson they called. Related: Wes Wilson's posters at Wolfgang's.
• "In the '70s, New Age music offered listeners, trapped in the urban rat-race, audio capsules of pastoral peace to transform their homes into havens. Today the Internet and social media form a kind of post-geographic urban space, an immaterial city of information whose hustle 'n bustle is even more wearing and deleterious to our equilibrium." 2010–19: Back To The Garden: The Return Of Ambient And New Age by Simon Reynolds.
• "This pointed-finger symbol goes by many names: mutton fist, printer's fist, bishop's fist, pointer, hand director, indicule, or most unimaginatively as 'a hand'. Scholarly consensus has pretty much settled on the word 'manicule', from the Latin maniculum, meaning 'little hand'." John Boardley on the typographic history of the pointing hand.
• Tales Of Purple Sally (1973) by Alex. All instruments by Alex Wiska apart from bass by Holger Czukay, and drums by Jaki Liebzeit. The latter pair also produced the album. Related: Jah Wobble talking to Duncan Seaman about working with Czukay and Liebeziet.
• "On Jan 25, 2020, tired of negative film lists on Twitter, I asked people for 'obscure [or] underseen films you adore and think more people should know about.' This was the result."
• Flash Of The Spirit by Jon Hassell & Farafina "hails from a time when the possibilities of music seemed less well-defined, and borders felt more open," says Geeta Dayal.
• The Art Of Computer Designing: A Black and White Approach (1993) by Osamu Sato. There's more of Sato's print work at the Internet Archive.
• At the Morgan Library: Jean-Jacques Lequeu: Visionary Architect. Drawings from the Bibliothèque nationale de France.
• New from Strange Attractor: Inferno: The Trash Project: Volume One by Ken Hollings.
• At Dennis Cooper's: Storm de Hirsch Day.
• Celeste by Roger Eno & Brian Eno.
• Ben Watt's favourite music.
• The Inferno (1968) by The Inferno | Inferno (1990) by Jah Wobble's Invaders Of The Heart | Inferno (1993) by Miranda Sex Garden