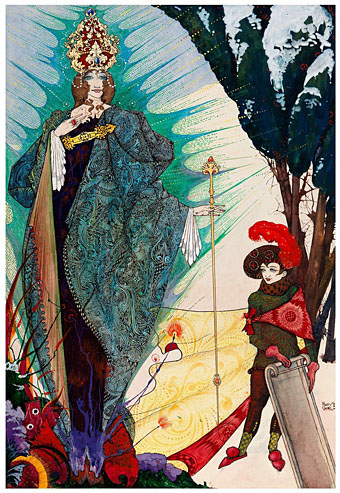 The Snow Queen (1916) by Harry Clarke.
• "…blogging remains my favourite format precisely because the writing so rarely feels like labour. Liberated from the need to pitch an idea or wield credentials, blogging—for a professional writer—frees you up to address topics outside your perceived expertise. It feels like a leisure activity because it's leisurely—a ramble across fields of culture and knowledge, during which you sneak short cuts and trespass into areas you are not meant to go. A post doesn't have to have a destination, a point. You can bundle or concatenate several different topics, push into adjacency things that don't obviously or naturally belong together—like oddments inside a Cornell box. You can start somewhere and end up somewhere completely different, without any obligation to tie things up neatly." Simon Reynolds reflecting on 20 years of the blogging thing, and neatly summarising the attractions of the medium. For some of us, anyway…
• At Smithsonian Magazine: "Structural colour was first documented in the 17th century, in peacock feathers, but it is only since the invention of the electron microscope, in the 1930s, that we have known how it works." Tomas Weber on Andrew Parker's nanotechnology developments which are creating some of the brightest hues in the world.
• "Bring back the Cailleach, beloved Scottish goddess of winter, shaking out the snow on the land. Bring back Mother Holda, with her wild geese and her snowflakes landing on the tongue like a gift from the sky…" Yvonne Aburrow would like to see the festival of Yule returned to its anarchic origins.
• Merry Christmas Mr Lawrence, an extract from a recent audience-less concert by Ryuichi Sakamoto which he says is liable to be his last.
• At Unquiet Things: S. Elizabeth posts some of the pictures that couldn't be fitted into The Art of Darkness.
• Mix of the week: A Tribute to Manuel Göttsching by Low Light Mixes.
• It's the end of December so it must be time for Alan Bennett's diary.
• RIP Mike Hodges.
• Vale Berfrois.
• Snow (1985) by Takashi Toyoda | Snowfall (2000) by Haruomi Hosono | Snowfall (2005) by Robin Guthrie & Harold Budd