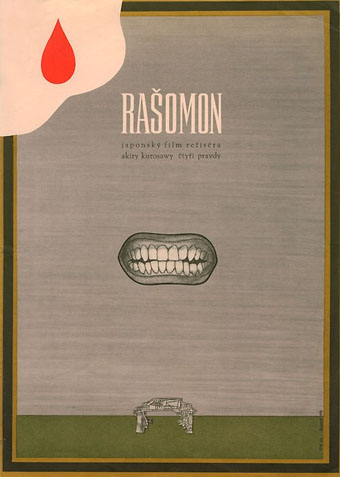 This week PingMag was looking at Czech film posters. This one by Bedrich Dlouhy is for the belated 1970 release of Kurosawa's Rashomon.
• In October Alison Goldfrapp curates an exhibition for The Lowry, Salford, featuring her favourite art. Examples will include work by Leonora Carrington, Lotte Reiniger and Henry Darger so I'll definitely be seeing this one. The new Goldfrapp album, Tales of Us, is released this week. Alison Goldfrapp & Lisa Gunning's film for Annabel is here.
• Michael Glover profiles artist Tom Phillips who has a new show of his paintings at the Flowers Gallery, London. The indefatigable Phillips also talked to Tracy McVeigh about his design for the new 50 pence coin which celebrates the centenary of Benjamin Britten.
• Get Carter director Mike Hodges remembers re-teaming with Michael Caine for the island-set crime thriller Pulp, and shares a letter that JG Ballard wrote to him in admiration of the film.
Dismantling the surveillance state won't be easy. Has any country that engaged in mass surveillance of its own citizens voluntarily given up that capability? Has any mass surveillance country avoided becoming totalitarian? Whatever happens, we're going to be breaking new ground.

Bruce Schneier on how to deal with the total surveillance state.
• Babel/Salvage presents The Midnight Channel, the newest montage of poetry by Evan J. Peterson, inspired by cinema of the horrific, fantastic and bizarre.
• Mixes of the week are from composer Amanda Feery at The Outer Church, and Pinkcourtesyphone (Richard Chartier) at Secret Thirteen.
• At Dangerous Minds: Kimberly J. Bright on the psychedelic poster art of Hapshash and the Coloured Coat. Related: LSD may not be bad for you, says study.
• Queer Zines: a 400-page study edited by AA Bronson & Philip Aarons.
• Justin Abraham Linds on The Walt Whitman of gay porn.
• Designs for theatre and print by Oskar Schlemmer.
• Beautiful Mars: a Tumblr.
• Goldfrapp: Lovely Head (2000) | Strict Machine (2003) | Caravan Girl (2008)