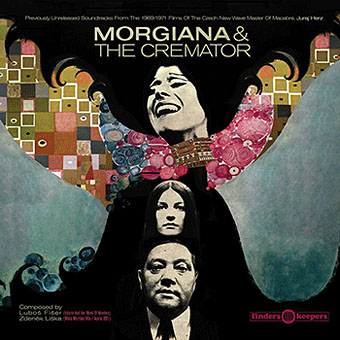 Having enthused recently about Czech soundtrack composer Zdenek Liska, and about Juraj Herz's The Cremator (1969), I can't avoid mentioning the release this month of Liska's soundtrack for Herz's film which comes twinned on CD with Lubos Fiser's equally distinctive soundtrack for Herz's Morgiana (1972). Both films are available on DVD from Second Run. Having only discovered these works in the past month the soundtrack collection arrives at just the right moment, another excellent reissue from the UK's Finders Keepers label who specialise in resurrecting neglected soundtracks, electronica and other obscure music. (Highlights from the electronic catalogue have included the reissue of Suzanne Ciani's synth music from the 1970s and 80s.)
With Morgiana and The Cremator sharing a director it makes sense to present the soundtracks as a pair, but the films also share a macabre atmosphere that verges on outright weirdness. Where the character of the Cremator is obsessed with reducing human beings to ash, in Morgiana we have a sister plotting the slow death by poison of her twin in order to gain an inheritance. Fiser's organ-inflected score is suitably dramatic, even melodramatic for the scenes where the poisoned sister is hallucinating, or we're seeing everything from the point-of-view of the family cat. Finders Keepers' albums are designed by Andy Votel who for this release has had the CD booklet printed with the Cremator pages running from the back to the centre so that—in the booklet at least—neither title is favoured.
Anyone curious about the Finders Keepers' sound world can receive a taste via this mix by Andy Votel for Self-Titled Mag. It's intended to tie-in with Cassette Store Day (that's today) but really functions as a good sample of the record label's obsessions. There's some Suzanne Ciani in there, as well as a rare piece of Cristal Baschet playing from Lasry-Baschet.
Previously on { feuilleton }
• Two sides of Liska
• Liska's Golem
• The Cremator by Juraj Herz