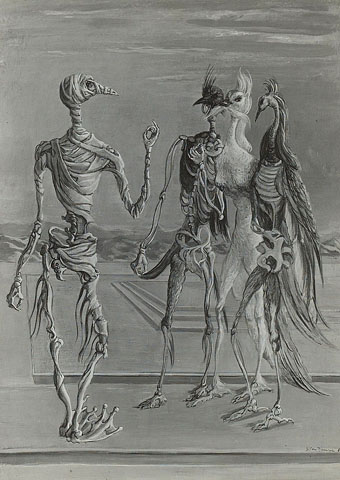 Untitled painting by Suzanne Van Damme (1901–1986).
• Eric Berkowitz, author of Sex and Punishment: 4000 Years of Judging Desire, chooses five books for The Browser.
• Venus febriculosa is running another competition: Design a new cover for Brian Eno's Music For Films.
• Paul Mayersberg and Tony Richmond on making The Man Who Fell to Earth.
When a good idea occurs, it has been prepared by a long time of reflection. But you have to be patient. We all have what I call the invisible worker inside ourselves; we don't have to feed him or pay him, and he works even when we are sleeping. We must be aware of his presence, and from time to time stop thinking about what we are trying to do, stop being obsessed about answers, and just give him the room, the possibility, to do his work. He is tenacious, you see. He never loses hope.

Screenwriter Jean-Claude Carrière discusses his remarkable career. Related: The Discreet Charm of the Bourgeoisie revisited.
• Tragic Time Capsules: Capturing the Decay of Forgotten Olympic Venues.
• Louis Menand on "The Puns and Detritus in James Joyce's Ulysses".
• Saul Bass's original ending for Phase IV unearthed in Los Angeles.
• Katherine Lanpher uses witchcraft to find a New York apartment.
• Italo Calvino's adolescence – that in-between time.
• The early film posters of Waldemar Swierzy.
• Psychedelic nano-art in oils and ferrofluids.
• David Toop has a blog.
• Bodies of Water (1995) by David Toop