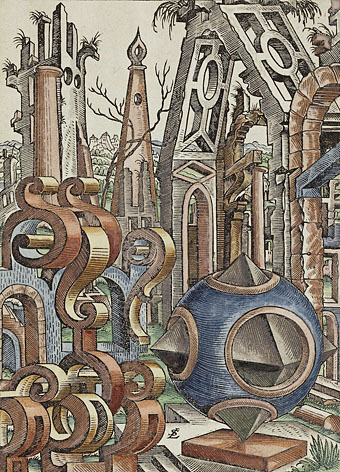 An engraving from The Geometric Landscapes of Lorenz Stoer (1567).
• Curtis Harrington's cult horror film, Night Tide (1961), receives a lavish blu-ray reissue from Powerhouse in January. The limited edition will include an extra disc of Harrington's early short films which encompass Poe adaptations and also Wormwood Star, his portrait of occult artist (and actor in Night Tide) Marjorie Cameron.
• "He was the first American representative of an electronic sound that was largely coming from Europe, from bands like Kraftwerk, or producers like Giorgio Moroder and Pete Bellotte…" Jude Rogers on Patrick Cowley.
• Clive Hicks-Jenkins examines Hans Poelzig's and Marlene Moeschke's work on Paul Wegener's 1920 film of The Golem. Wegener's film is released this month in a restored blu-ray edition by Eureka.
• "Conrad was uncompromising in his beliefs until the end, sticking to his ideals with tenacious fervor." Geeta Dayal on Tony Conrad: Writings, edited by Constance DeJong and
Andrew Lampert.
• At Dennis Cooper's: 47 dead films. One of the films, Hu-Man (1975), a French science-fiction drama starring Terence Stamp, isn't as dead as was assumed.
• The Danske Filminstitut has made a collection of Danish silent films available to watch for free online.
• The Last Time I Saw John Giorno, an Extraordinary Performance Poet by Mark Dery.
• "Like looking through butterfly wings": Ira Cohen's Mylar chamber—in pictures.
• Callum James reviews the Early Poetical Works of Aleister Crowley.
• Drawing the Gaze: Revisiting Don't Look Now by Jesse Miksic.
• Mix of the week: FACT Mix 745 by Visible Cloaks.
• Mind Warp (1982) by Patrick Cowley | Go-Go Golem (1986) by Golem Orchestra | Night Tide (1995) by Scorn