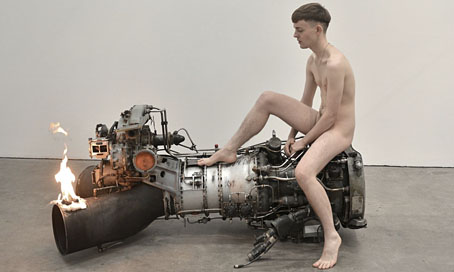 Untitled (2011) by Roger Hiorns. Photograph by Kate Green.
• "Most surprising and troubling of all is the status of a series of new paintings, also depicting naked male bodies. The figures look archaic, painted using latex and molten and folded plastic. They have sex with each other and with themselves. Extra penises float about, and fill any otherwise unoccupied orifice. There's a lot of rogering going on, anal and oral, the figures consumed entirely by the act." Adrian Searle reviews Roger Hiorns' latest show at the Ikon Gallery, Birmingham.
• "At the heart of magical belief is the belief in your own free will, in your ability to make changes and influence the world. It wasn't accepting your circumstances, it was working to understand and directly change them." Jessa Crispin on the women of the Hermetic Order of the Golden Dawn.
• Addison Nugent on William Hope Hodgson: "The Forgotten Bodybuilding, Shark-Fighting Sailor who Invented Cosmic Horror (and annoyed Houdini)". I'd quibble with the "forgotten"—Hodgson is sometimes overlooked but not exactly unknown—but the appraisal is welcome.
• More end-of-year lists: The Quietus posts its Albums of the Year, Bandcamp does the same, while Adrian Curry at MUBI announces his favourite film posters of the year.
• Callum James has devised The Quite Difficult Book Quiz for those who'd like a challenge (and a donation to charity) over Christmas.
• "A profoundly poetic anomaly": Kenan Malik on the Tantric paintings that pre-empt Modernist abstraction.
• Patricia M's Flickr albums contain a wealth of antique graphic design, advertising art and undigitised letterforms.
• "Cronky, shonky, soggy, knackered": Simon Reynolds on ten years of Moon Wiring Club.
• Michael LePointe on the delightful mysteries of The Voynich Manuscript.
• Veloelectroindustrial: Wandering the wastelands of former industry.
• Mix of the week: Secret Thirteen Mix 202 by JG Biberkopf.
• "Was Edmund Wilson jealous of Lolita?" asks Alex Beam.
• "Research finds MP3s drain your music of emotion."
• Richard H. Kirk's favourite albums.
• Pavel Banka's surreal abstractions.
• Dennis Cooper's Alan Clarke Day.
• Cosmic Surfin' (1978) by Yellow Magic Orchestra | Cosmic Meditation (1991) by Moondog | Cosmic Call (2006) by The Evpatoria Report