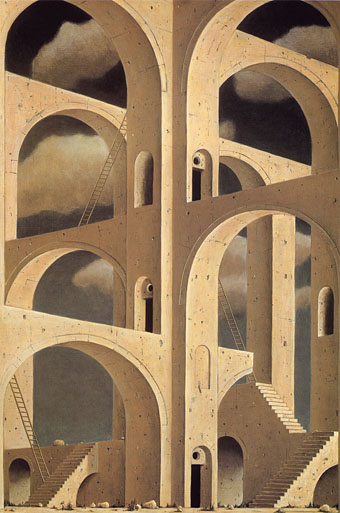 Arcadia-24 (1988) by Minoru Nomata.
• Dark Entries and Honey Soundsystem Records release a video of edited moments from gay porn film Afternooners to promote the release of the film's electronic soundtrack by Patrick Cowley. The album, which is the third and final collection of Cowley's porn soundtracks, is out now.
• Emily Temple looks at some of the art inspired by Italo Calvino's Invisible Cities. I explored the same subject a couple of years ago in a week of Calvino art posts. From 2014: Peter Mendelsund on designing covers for Calvino.
• Jim Downes on the late Charley Shively, a gay liberation activist who wasn't interested in equality. Not an uncommon attitude in some gay circles but it's one you seldom see aired in the mainstream press.
• Geeta Dayal on A Little Electronic Milky Way of Sound by Roland Kayn, a 14-hour composition of "cybernetic music" which has been released in a lavish 16-CD box set by Frozen Reeds.
• An introduction to Henri-Georges Clouzot in seven films by Adam Scovell. Clouzot's masterwork, The Wages of Fear (1953), is released on blu-ray by the BFI next week.
• Ubu Yorker: Menachem Feuer interviews Kenneth Goldsmith, writer and the man behind Ubuweb.
• Why Oscar-winning cinematographer Vittorio Storaro thinks the film vs. digital debate is bullshit.
• David Barnett on supernatural fiction's "best kept secret", Robert Aickman.
• Michèle Mendelssohn on how Oscar Wilde's life imitates his art.
• Mix of the week: Secret Thirteen Mix 233 by Mick Harris.
• Invisible Limits (1976) by Tangerine Dream | Invisible Cities (1990) by Jah Wobble's Invaders Of The Heart | Invisible Architecture (1995) by John Foxx