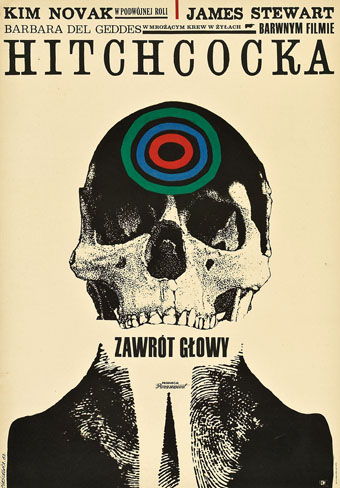 Poster by Roman Cieslewicz for the 1963 Polish release of Vertigo. Via The Hitchcock Zone.
• Alfred Hitchcock's Vertigo is sixty years old this year. It's a film I've always found to be preposterous and very over-rated, despite the considerable strengths of its cast, production, etc; consequently, any claims to its being an unalloyed masterpiece (such as being voted the best film of all time in the 2012 Sight & Sound poll) have been difficult to accept. For the latest anniversary, David Thomson examined the film in the light of changing social attitudes.
• Currently seeking funding at Unbound: Stars, Fools and Lovers: An illustrated guide to the art and history of the Tarot by Joanna Ebenstein, Laetitia Barbier and Mark Pilkington. Another Tarot-related book, Pamela Colman Smith: The Untold Story by Stuart R. Kaplan with Mary K. Greer, Elizabeth Foley O'Connor and Melinda Boyd Parsons, will be published next month.
• Everybody wants to talk to Jon Hassell at the moment, which is no bad thing: recent interviews have appeared at The Vinyl Factory, Red Bull Radio and Vice.
• Coming soon from Lazarus Corporation: England's Dark Dreaming by Paul Watson.
• Sean Kitching on The Strange World of Charles Hayward (This Heat et al).
• At Dennis Copper's: The title sequences of 56 mostly horror movies.
• Stone circles: Adam Scovell chooses 10 notable cinematic examples.
• "You gotta be selfish. It's a terrible thing," says David Lynch.
• Wolf's Kompaktkiste shows off a serious record collection.
• Boy with Cat (1966), a short film by Donald Richie.
• Mix of the week: Secret Thirteen Mix 256 by Nina.
• Tank (2018), a short film by Stu Maschwitz.
• Phantom Islands—A Sonic Atlas
• Vertigo (1988) by Flash Cero | Psyko (Themes from Psycho and Vertigo) (1993) by Laika & The Cosmonauts | Vértigo Magnético (2014) by Liquidarlo Celuloide