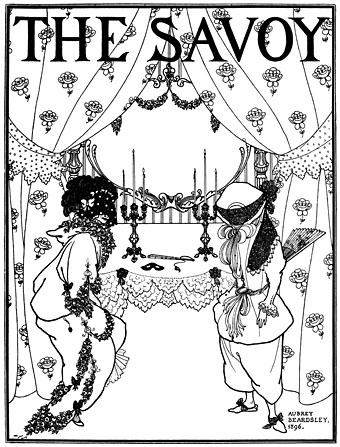 Further retrievals from the depths of the Internet Archive (and thanks to Lord Cornelius Plum for the tip) come in the form of three bound editions of The Savoy magazine, a British art and literary periodical which ran for eight issues from January to December 1896. Aubrey Beardsley was art editor and chief illustrator, Arthur Symons the literary editor and the publisher was the heroic and duplicitous London pornographer Leonard Smithers whose patronage and, it should be noted, exploitation of Beardsley's work kept the artist solvent during his last two years.
A thesis could be written (and no doubt has been) exploring the curious symbiosis between pornography publishers and the artistic avant garde. Smithers was a proud purveyor of what he called "smut" but he also complained about all the money he lost supporting poets and down-at-heel writers. Posterity can thank him for publishing Teleny, the classic early work of gay fiction attributed to Oscar Wilde, as well as Beardsley's Lysistrata illustrations and The Savoy, a magazine founded in the fallout of the Wilde scandal when The Yellow Book dropped Beardsley from its staff in order to appease its more conservative contributors. The magazine's run was short due to poor sales after WH Smith's refused to stock it, worried again about the controversial nature of Beardsley's art. (Speculative fiction magazine New Worlds faced similar problems with Smith's in the late Sixties.) This seems astonishing to us now when looking at the world-class roster of contributors to the first issue, a list which included two future Nobel winners—George Bernard Shaw and WB Yeats—as well as Max Beerbohm, Ernest Dowson, Havelock Ellis, JM Whistler, Charles Shannon, William Rothenstein, and Beardsley writing and illustrating the first part of his erotic caprice, Under the Hill.
Beardsley's illustrations are very familiar from book reproduction but it's good to see them in the context in which they first appeared, and to be able to read some of the features. The later issues include pages of adverts which always fascinate for their contemporary detail.
• The Savoy: Volume 1 | Volume 2 | Volume 3
Elsewhere on { feuilleton }
• The illustrators archive
Previously on { feuilleton }
• Jugend, 1897
• Deutsche Kunst und Dekoration
• Jugend, 1896
• Jugend Magazine revisited
• Teleny, Or the Reverse of the Medal
• Beardsley at the V&A
• Merely fanciful or grotesque
• The Great God Pan
• Jugend Magazine
• Aubrey Beardsley's musical afterlife
• Aubrey by John Selwyn Gilbert
• "Weirdsley Daubery": Beardsley and Punch
• Alla Nazimova's Salomé