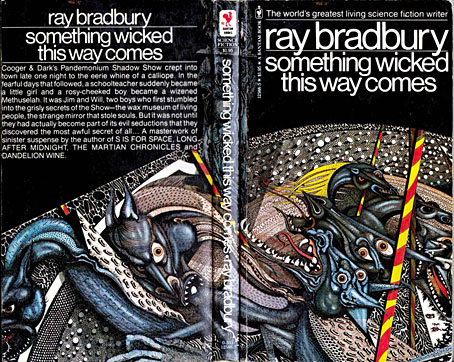 Cover art by Ian Miller, 1979.
• Ray Bradbury was born 100 years ago today. Emily Temple expresses surprise that Truman Capote encouraged the publication of a Bradbury short story at Mademoiselle in 1946. I'm more surprised that Bradbury was paid $400 for his work; no wonder he was so eager to write for the non-genre magazines. Elsewhere: Ray Bradbury—The Illustrated Man: the BBC's Omnibus arts strand profiled Bradbury in 1980 with enthusiastic assistance (narrating/reading/performing) from the man himself; Ray Bradbury book and magazine covers at Flickr.
• Anna Smith asks whether Linda Fiorentino was the greatest femme fatale ever in The Last Seduction (1994). A substantial claim, especially for a neo-noir playing so self-consciously with the theme, but it's a very good film, and one I'd like to see again.
• "Bad as a work of art, and morally bad…" Vladimir Nabokov's Lolita being reviewed by Kingsley Amis, a writer who preferred the peerless prose and stainless morals of Ian Fleming. Dan Sheehan looks at other contemporary reactions to Nabokov's novel.
• At Dennis Cooper's: Mary Ellen Bute Day, and (how could I avoid it?) ClicketyClack presents…Brothers Quay Day.
• More from The Art of the Occult: S. Elizabeth offers a glimpse of the contents of her forthcoming book.
• Make the letter bigger: John Boardley on the development of the illuminated capital.
• In 1987 Anne Billson talked to Nicolas Roeg about his latest film, Castaway.
• Five controversial arthouse features from Japanese filmmaker Sion Sono.
• It's that group again: Joe Banks on the strange world of Hawkwind.
• C82: Works of Nicholas Rougeux.
• Fahrenheit 451 (1982) by Hawkwind | Something Wicked This Way Comes (1996) by Barry Adamson | The Martian Chronicles (2007) by Dimension X