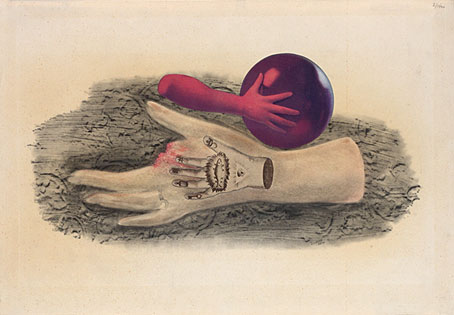 Hand (1940) by Jindrich Styrsky.
• "I love very much Symbolist painters like Odilon Redon, Ferdinand Knopf or Léon Spilliaert. Or Nordic European painters such as Munch or Gallen-Kallela. I like the way they often mix nature and mythology. Some Surrealist painters are very inspiring too: De Chirico, Tanguy, Toyen, Styrsky, or Dorothea Tanning, for instance." Lucile Hadzihalilovic talking to Mark Cousins about her new film, Earwig, and her approach to cinema.
• "It was no accident that Mishima chose to experiment with science fiction. It was a genre he had long admired. He adored Arthur C. Clarke, and lavished praise on Godzilla…" Alexander Lee on Yukio Mishima's sole venture into science fiction, Beautiful Star.
• Old music: Roforofo Fight by Fela Kuti, a great favourite round here, is receiving a 50th anniversary reissue.
Readers of Berlin's Third Sex were confronted with a whole fête galante of misfits, deviants, and sexual mutineers cavorting on the legal edgelands of society. There's the "gathering of obviously homosexual princes, counts and barons" discussing Wagner, the women-only ball where a "dark-eyed Carmen sets a jockey aflame", the drag act burlesquing Isadora Duncan, a café in the city's north where Jewish lesbians play chess, gaggles of gay labourers meeting up to gossip before tending to their needlework, the Russian baron distributing alms to hustlers in the Tiergarten, a canal-side tavern where soldiers from the nearby barracks find gay men only too willing to pick up their tab, and the encrypted classified ads with which the lonesome and horny sought to make the vast metropolis just a little smaller.

James Conway on the pioneering sexology of Magnus Hirschfeld
• At Aquarium Drunkard: The Miles Davis Septet playing live at Chateau Neuf, Oslo, in 1971.
• Industrial Symphony No. 1 by David Lynch & Angelo Badalamenti featuring Julee Cruise.
• Mix of the week: Ghosts & Goblins 1 by The Ephemeral Man.
• New music: The Homeland Of Electricity by Scanner.
• Steven Heller's font of the month is Pufff.
• Galerie Dennis Cooper presents Ilse Bing.
• RIP Paula Rego and Julee Cruise.
• Teacher Of Electricity (1970) by Old Gold | Electricity (1980) by Orchestral Manoeuvres In The Dark | Night Electricity Theme (2017) by Dean Hurley