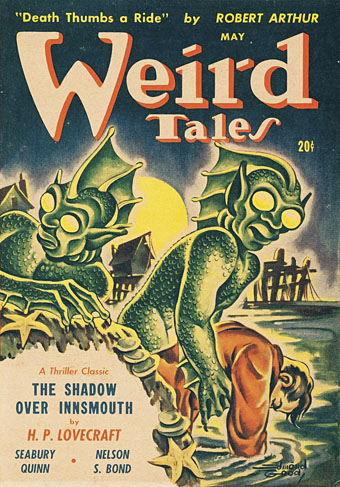 Weird Tales (Canada), May 1942. Cover art by Edmond Good.
• "…in 1968, seven years after the MOMA retrospective, Orson Welles appreciatively got in touch and suggested that Bogdanovich do a book-length set of interviews with him like the one that Bogdanovich had just done with Ford. The resulting book, This Is Orson Welles (which took a winding path to publication, in 1992, seven years after Welles's death), is a classic of the literature of movies." Richard Brody on the late Peter Bogdanovich. The book of Welles interviews is one of my favourite film books, as good in its way as Hitchcock/Truffaut, and like Truffaut's book you wish it was twice as long.
• At Public Domain Review: Paloma Ruiz and Hunter Dukes on Johann Caspar Lavater's frog-to-human physiognomies. If you reverse the sequence, as I did for one of the illustrations in Lovecraft's Monsters, you approach The Shadow Over Innsmouth.
• The week in virtual exploration (via MetaFilter): Mini Tokyo 3D and Explore the Soane Museum, London.
• Submissions are open for the 16th issue of Dada journal Maintenant which will have the theme "Nyet Zero".
• At Spoon & Tamago: Artists and artisans collaborate on exhibition of 144 maekake aprons.
• DJ Food unearths flyers and posters for the Million Volt Light & Sound Rave, 1967.
• Mix of the week: Isolatedmix 116 by Chris SSG.
• At Dennis Cooper's: Stephen Dwoskin Day.
• The Little Blue Frog (1970) by Miles Davis | Jail-House Frog (1972) by Amon Düül II | Tree Frog (1995) by Facil