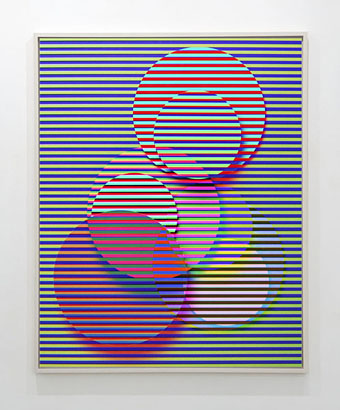 Transition H50 (2016) by Jessica Eaton.
• One of my weekend posts in 2012 contained details about Taking Tiger Mountain, a low-budget feature film put together in 1983 by Tom Huckabee using footage originally shot in Tangier and Wales in the 1970s. Huckabee's film is a strange "experimental" work of science fiction, based in part on William Burroughs' Blade Runner script (no relation to the Ridley Scott film apart from the title), and described here as "a psychotropic apocalyptic odyssey". The most notable aspect of the film for many will be the presence of a young Bill Paxton in the lead role, something I was reminded of when Paxton's death was announced earlier this week. Five years ago there was only a short clip of Taking Tiger Mountain available on YouTube but since then a full copy has appeared; watch it here while you can. (The widescreen frame is cropped, and the sound is all in one channel but it's still watchable.) Tom Huckabee talked about the film's production (and the Burroughs connections) to Beatdom. A curio that deserves wider attention.
• "With Biller, the references come thick and fast. In The Love Witch, she channels, among others, 50s Hitchcock, Douglas Sirk's lurid lushness, Rainer Werner Fassbinder's deadpan gaze, Nicholas Ray's poetry, Sam Fuller's tabloid style and Todd Haynes's revisionist sexual politics. […] Then add the Technicolor, widescreen, haute-Hollywood "women's pictures" of the 50s, a touch of Hammer Studios, The Wicker Man, Rosemary's Baby and any number of studio melodramas and musicals." John Patterson talks to director Anna Biller about her new film, The Love Witch.
• Mix of the week is the Anxious Heart Mix by Moon Wiring Club, another excellent blend of electronica, industria and dialogue samples from the outer limits of the televisual sphere. Also of note this week: VF Mix 83, an Adrian Sherwood selection by Pinch, XLR8R Podcast 479 by Chris SSG, and Secret Thirteen Mix 213 by -N.
• "Anthropologically, this was going on all around me: it was amazing and nobody was dealing with it like that, so I just went for it." Hal Fischer on his photo-art series, Gay Semiotics, which is on display at Project Native Informant, London, until 1st April.
• Coming in May from Luaka Bop, World Spirituality Classics 1: The Ecstatic Music of Alice Coltrane Turiyasangitananda, the first-ever compilation of Alice Coltrane's scarce releases on the Avatar Book Institute label.
• Cinephilia looks back at Robert Wise and Nelson Gidding's film of The Andromeda Strain (1971).
• Psychedelic Speed Freak: Remembering the blistering experimentalism of Hideo Ikeezumi.
• More witchery: S. Elizabeth talks to Pam Grossman about art, film and hex power.
• At The Quietus: Harry Sword on the strange world of Surgeon.
• The Feathered Tiger (1969) by Kaleidoscope | Taking Tiger Mountain (1974) by Brian Eno | Plain Tiger (1985) by Cocteau Twins