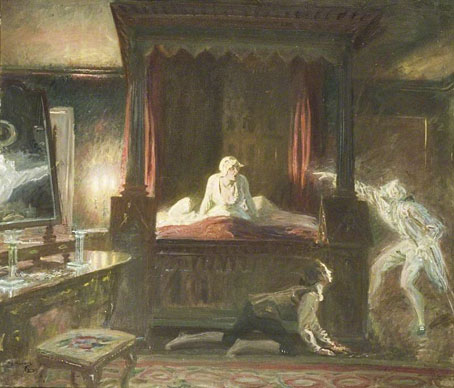 The Haunted Room, Painted at a Farmhouse on Exmoor (1952) by Alfred James Munnings.
• "In Scotland, children made terrifying jack-o'-lantern turnips and piled cabbage stalks around doors and windows, baiting fairies to bring them new siblings." It's that time of year again. Public Domain Review looks at The Book of Hallowe'en (1919) by Ruth Edna Kelley.
• At Wormwoodiana: Mark Valentine on the centenary of Visible and Invisible, EF Benson's collection of horror stories.
• At Dennis Cooper's: DC's ostensibly favourite haunted attractions of Halloween season 2023 (international edition).
Mostly it was down to the environments of their sound. The aerial acrobatics of Fraser's voice. The architecture of sound that came from Guthrie's effects-treated guitars; not just the often-cited often-derided 'cathedrals of sound' but all manner of sunken ballrooms, tunnels, factories, attics, foundries, observatories, caverns. If any category was required, Cocteau Twins could have been placed within Symbolism, a hallucinatory death-rattle of romanticism in the industrial age, when all that had been discarded returned in dreams and decadence, orgiastic excess, disembodied spectral heads and ornate altars, lonely demons and alluring succubi, jewels and masks and apparitions, all the minutiae of things that the steam engine and the printing press had yet to fully exorcise.

Darran Anderson on the Cocteau Twins' Head Over Heels at 40. His digs at the music press are a welcome riposte to the nostalgia that often attends discussion of the weekly snark-machine that was the NME, Sounds et al in the 1980s
• Follow the footsteps of the Beast in a guide to Aleister Crowley's British haunts, with text by Gary Lachman and design by Michelle Merlin. Also at Herb Lester: Occult Paris: City of Night.
• At Print Magazine: Charlotte Beach talks to illustrator and author Edward Carey about his spooky drawings.
• "Silent movies are full of friendly ghosts." Kathleen Rooney on Caspar, Colleen [Moore] and the Beyond.
• New music: Mizuniwa by Yui Onodera.
• Spooksville (1963) by The Nu-Trends | Spooks (1981) by Tom-Tom Club | Spooky Rhodes (1997) by Laika