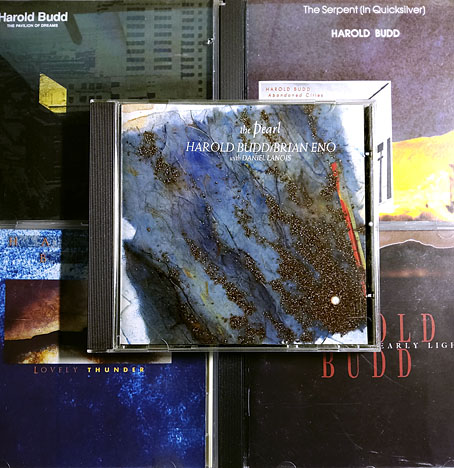 Art and design for The Pearl by Russell Mills.
I must have listened to this album hundreds of times, maybe thousands, there having been days when I've allowed it to loop for hours on end. I'll never tire of it.
There's a lot I could write about Harold Budd: about his early electronic compositions like The Oak Of The Golden Dreams; about the way that The Pavilion Of Dreams is the slowest jazz album you'll ever hear; about the Eno/Lanois production on The Pearl which creates music that's simultaneously earthed and extraterrestrial, the latter quality making it a (dark-eyed) sister to Apollo—Soundtracks & Atmospheres; about the time that Budd became the fourth member of the Cocteau Twins; about the William Burroughs influence in the poems that Budd reads on By The Dawn's Early Light; about the beautiful soundtrack he composed with Robin Guthrie for Gregg Araki's Mysterious Skin, a film whose subject matter isn't beautiful at all… But it's easier to simply say listen to this.
Previously on { feuilleton }
• Made To Measure
• Night Music in two parts