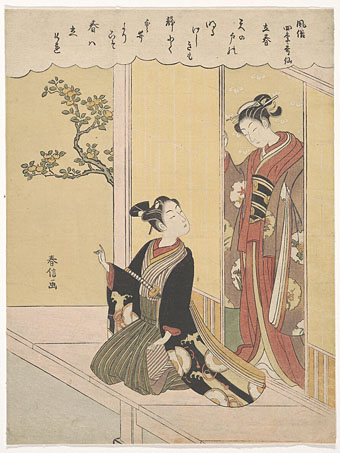 The First Day of Spring (Risshun), from the series Fashionable Poetic Immortals of the Four Seasons (c.1768) by Suzuki Harunobu. Risshun in Japan begins on the 4th of February.

• "…after centuries of imbibing alcoholic beverages as their main source of potable water, European's new fondness for boiled drinks—coupled with the psychoactive properties of caffeine—swapped societal tipsiness with a mindstate primed for the Enlightenment's intoxication with reason." Hunter Dukes on A Treatise Concerning the Properties and Effects of Coffee (1792) by Benjamin Moseley.
• Steven Heller on John Wilcock, Master of the Underground: "[He] was one of the great 'happening' characters of midcentury America, beat myth to Hippie legend. He was founder of half a dozen underground papers, and started one of the first citizen-access cable television shows. His achievements are a dense package."
• At Fonts In Use: Florian Hardwig explores the origin of "the Dune font" as used on the covers of Frank Herbert's novels during the 1970s and 80s.
• At Smithsonian Magazine: "Hundreds of Frank Lloyd Wright's designs were never built. Here's what they might have looked like."
• Mix of the week: Fact Mix 893 by KMRU & Aho Ssan & Sevi Iko Dømochevsky.
• New music: Hypnagogia by Martina Bertoni, and Cosmos Vol. II by Ran Kirlian & Jaja.
• "Forgotten 'Stonehenge of the north' given to nation by construction firm."
• At Aquarium Drunkard: Soft Machine live at Jazz Bilzen, 1969.
• RIP Tom Verlaine.
• Goofin' At The Coffee House (1959) by Henri Mancini | Bring Me Coffee Or Tea (1971) by Can | Starfish And Coffee (1986) by Prince