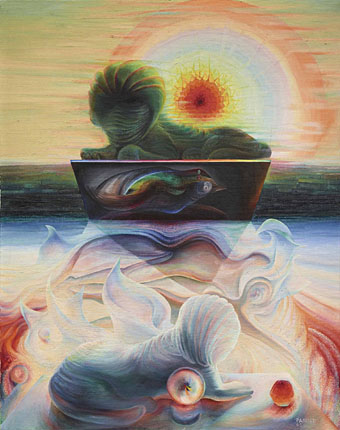 Au Lion d'or (1965) by Mimi Parent.
• After the recent announcement of Jon Hassell's health issues it's good to see he has a new album on the way at the end of July. Seeing Through Sound (Pentimento Volume Two) follows the form of the first volume, Seeing Through Pictures (2018), in reworking elements of earlier recordings into new forms. Not remixes, more reimaginings, and a process that Hassell has been applying to his own work for many years, most notably on his collaboration with Peter Freeman, The Vertical Collection (1997). The latter is an album which is impossible to find today and really ought to be reissued, together with more scarcities from the Hassell catalogue.
• Death of a typeface: John Boardley on Robert Granjon's Civilité, a type design intended to be the national typeface of France but which fell out of favour. It wasn't completely forgotten however; I was re-reading Huysmans' À Rebours a couple of weeks ago, and Civilité is mentioned there as being a type that Des Esseintes chooses for some of his privately-printed books.
• At Plutonium Shores: Kurosawa versus Leone in A Fistful of Yojimbo. Christopher Frayling makes a similar analysis in his landmark study, Spaghetti Westerns (1981), but I didn't realise that Leone had based so many of his shots on Kurosawa's film.
• More lockdown art: Seen from Here: Writing in the Lockdown is a collection of new writing edited by Tim Etchells and Vlatka Horvat. A PDF book whose sales will go to support the Trussell Trust, a UK food bank charity.
• The week's culture guides: Ben Cardew on where to start with the back catalogue of Miles Davis, and Hayley Scanlon on where to begin with the films of Yasujiro Ozu.
• "We can no longer ignore the potential of psychedelic drugs to treat depression," says Robin Carhart-Harris.
• At Dangerous Minds: Laraaji returns with a new album, Sun Piano, and a preview of the same, This Too Shall Pass.
• Mixes of the week: The Ivy-Strangled Path Vol. XXI by David Colohan, and XLR8R Podcast 647 by The Orb.
• Penelope Rosemont on the humorous Surrealism of Mimi Parent.
• At Dennis Cooper's: Jeff Jackson presents Free Jazz Day.
• The Golden Lion (1967) by Lomax Alliance | Dread Lion (1976) by The Upsetters | Gehenna Lion (1982) by Chrome