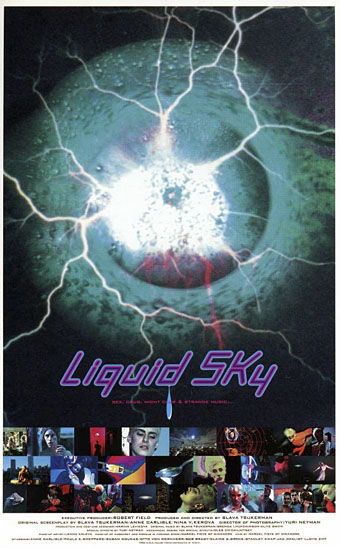 Japanese (?) poster for Liquid Sky (1982).
• The announcement this week of the death of Carl T. Ford, former editor of Dagon magazine, prompted a handful of memorial pieces. Dagon was notable for being a small British magazine devoted to Lovecraftian and other weird fiction (and the Call of Cthulhu games) at a time when the majority of such publications were American; it was also very well-produced, its later issues being typeset and filled with quality black-and-white illustration. Dagon interviewed many notable writers, including people such as Thomas Ligotti whose work at the time was still only known to a small group of enthusiasts. Mark Valentine posted a reminiscence at Wormwoodiana; Yog-Sothoth.com has an interview with Carl from 2010.
• Michael "Dik Mik" Davies, manipulator of an audio generator and tape echo for Hawkwind, also died this week. Dik Mik's primitive background electronics, augmented by Del Dettmar's synthesizers, were an essential component of the early Hawkwind sound.
• Erik Davies talks to writer, photographer, and curator Joanna Ebenstein about Goth obsessions, memento mori, Santa Muerta, and her extraordinary new illustrated collection Death: A Graveside Companion.
• Slava Tsukerman's cult film Liquid Sky (1982) finally gets a blu-ray release. From 2014: Punks, UFOs, and Heroin: Daniel Genis on how Liquid Sky became a cult movie.
• Geeta Dayal explores the MOMA exhibition Thinking Machines: Art and Design in the Computer Age: 1959–1989.
• You Should Come With Me Now is a collection of new fiction by M. John Harrison published this week.
• VinylHub: "Our mission is to document every physical record shop and record event on the planet."
• Vladimir Nabokov's dream diary reveals experiments with "backwards timeflow".
• Flawed Greatness: DB Jones on beauty and balance in John Ford's The Searchers.
• Irakli Kiziria on 9 synth artists who defined Eastern Europe's post-Soviet sound.
• Edgar Allan Poe's Hatchet Jobs: Mark Athitakis on Poe's book reviews.
• Mix of the week: FACT mix 627 by Oneohtrix Point Never.
• At Creative Review: The design of Mute Records.
• Laraaji's favourite albums.
• We Do It (1970) by Hawkwind | Adjust Me (1971) by Hawkwind | Electronic No. 1 (1973) by Hawkwind