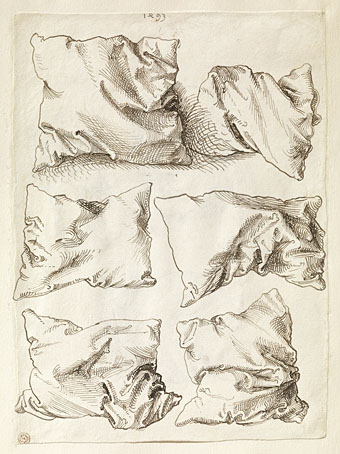 Pillow Studies (1493) by Albrecht Dürer.
• "Without ever writing a song, without ever fronting a group, Khan changed the face of British music." Michael Hann talks to Morgan Khan about bringing New York Electro to the UK with his Streets Sounds label.
• James Balmont offers "an introduction to Japan's visceral cyberpunk cinema in five cult films". This reminds me that I've not seen Shinya Tsukamoto's Tetsuo films for years. Time to reacquaint myself.
• At Aquarium Drunkard: 15-minutes of Alice Coltrane from 1970, talking about her music and performing with Pharoah Sanders et al. Amazing.
• Clive Hicks-Jenkins presents Beauty & Beast, an animated fairy tale made to showcase his toy theatre design.
• Carl Dreyer's horror masterpiece, Vampyr (1932), is released on blu-ray by Eureka in May.
• At Wormwoodiana: Mark Valentine explores the mysteries of the Egg Language.
• DJ Food unearths paintings by Syd Mead for a Celcon Steel brochure, 1965.
• Jamie Sutcliffe enters The Strange World of Junji Ito.
• Mix of the week: Isolatedmix 117 by Refracted.
• Keeley Forsyth's favourite music.
• Electrocharge (1980) by Blackbeard | Electrodub1 (1980) by Chris Carter | Ano Electro (Andante) (1993) by The Sabres Of Paradise