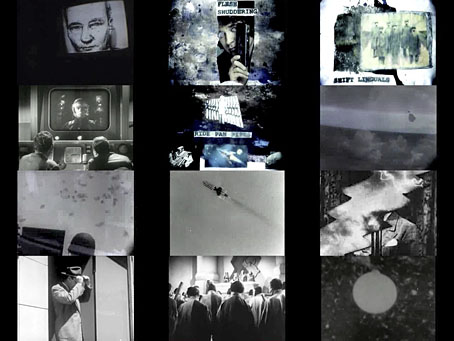 Andre Perkowski's Nova Express describes itself as "a 3-hour experimental epic adaptation of the novel by William S. Burroughs… with Allen Ginsberg, Brion Gysin, Phil Proctor, Peter Bergman, Jürgen Ploog, and Anne Waldeman". The technique is relatively simple, if laborious: a large quantity of copyright-free film & TV footage, animation and visual material is matched to readings of Burroughs's novel by the author and others. As far as this goes it's an interesting answer to the question of filming Burroughs' early works. Ideally this kind of juxtaposition of word and image should create something which isn't present when word and image are separated, rather than simply operate on the level of what animator Chuck Jones once called "illustrated radio". The clips on YouTube veer between these two poles. Notable by its absence is this kind of thing:
The naked cadets entered a warehouse of metal – lined cubicles – stood a few inches apart laughing and talking on many levels – Blue light played over their bodies – Projectors flashed the color writing of Hassan i Sabbah on bodies and metal walls – Opened into amusement gardens – Sex Equilibrists perform on tightropes and balancing chairs – Trapeze acts ejaculate in the air – The Sodomite Tumblers doing cartwheels and whirling dances stuck together like dogs – Boys masturbate from scenic railways – Flower floats in the lagoons and canals – Sex cubicles where the acts performed to music project on the tent ceiling a sky of rhythmic copulation – Vast flicker cylinders and projectors sweep the gardens writing explosive bio-advance to neon – Areas of sandwich booths blue movie parlors and transient hotels under ferris wheels and scenic railways – soft water sounds and frogs from the canals  – K9 stood opposite a boy from Norway felt the prickling blue light on his genitals filling with blood touched the other tip and a warm shock went down his spine and he came in spasms of light – Silver writing burst in his brain and went out with a smell of burning metal in empty intersections where boys on roller skates turn slow circles and weeds grow through cracked pavement –
Nova Express isn't as homoerotic as the other books from this period but the whole of the Smorbrot chapter runs like that, and there are other moments elsewhere. (I should note that there's no Smorbrot section in the available clips but I expect there will be in the complete film.) This side of Burroughs' work is still the least represented where adaptations are concerned. Ignore it and you're ignoring a major component of his fiction. Andre Perkowski talked to Graham Rae at Reality Studio in 2010.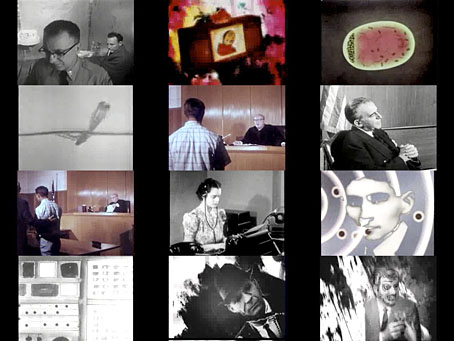 Previously on { feuilleton }
• Decoder, a film by Jürgen Muschalek
• The Burroughs Century
• Interzone: A William Burroughs Mix
• Sine Fiction
• The Ticket That Exploded: An Ongoing Opera
• Burroughs: The Movie revisited
• Zimbu Xolotl Time
• Ah Pook Is Here
• Jarek Piotrowski's Soft Machine
• Looking for the Wild Boys
• Wroblewski covers Burroughs
• Mugwump jism
• Brion Gysin's walk, 1966
• Burroughs in Paris
• William Burroughs interviews
• Soft machines
• Burroughs: The Movie
• William S Burroughs: A Man Within
• The Final Academy
• William Burroughs book covers
• Towers Open Fire