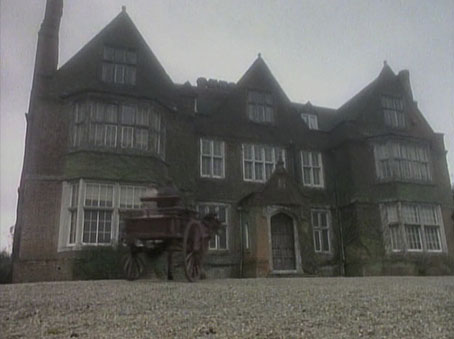 The British television tradition of screening a ghost story at Christmas was filled in 1989 with Nigel Kneale's adaptation of Susan Hill's novel The Woman in Black. This isn't one of the best contributions to the annual ghost drama but at 100 minutes it's one of the longest, and it has its supporters, some of whom value it above the recent Hammer film production. Seeing as I'd re-watched Nigel Kneale's major film and TV works earlier this year I thought I'd give The Woman in Black another look. It was better than I remembered although it still left me feeling unsatisfied.
I've not read Susan Hill's book so can't say how it compares to the television version in any detail. (Wikipedia has a spoiler-heavy list of the differences.) I did see Stephen Mallatratt's play in 1988, however, the first adaptation of the book which has since become one of London's most popular theatre productions. The play conjures an effective sense of dread but relies a little too much on loud noises to shock the audience at crucial moments. This is a cheap trick in bad horror films (Wes Craven does it a lot), and it's just as cheap a trick on a stage. Nigel Kneale may have altered Hill's story to a degree which apparently displeased her but he didn't resort to any Craven tricks.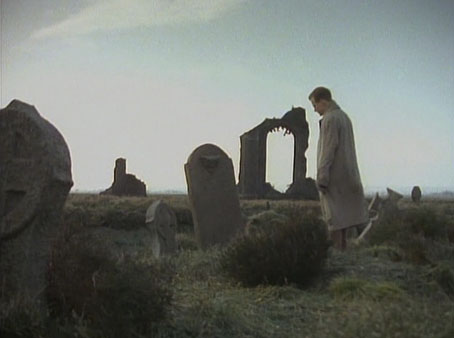 The BBC's Christmas ghost stories have tended to be MR James stories, and The Woman in Black is very much a James pastiche which no doubt helped make it attractive to ITV. All the James hallmarks are there: a man of letters (solicitor rather than a scholar) visiting an isolated part of the English countryside; a lonely house; fearful locals; mysterious deaths; documentary evidence that requires examination; a haunting.
Adrian Rawlins is the young solicitor, Arthur Kidd, given the task of putting the estate of a dead woman in order. Rawlins would have been fine in a smaller role but he wasn't a good choice for a central character, not when Kidd is on screen every minute of the running time. Far better is the always excellent Bernard Hepton as a genial landowner, a very different role to his sinister Fisher in Robin Redbreast. There's a lot of solid period detail—Kneale's dialogue fixes the date at around 1925—and the writing and direction manages to avoid insulting the intelligence. In place of the usual voiceover reading of letters we have Kidd listening to a succession of recording cylinders, an unlikely thing for an elderly woman to be using but it does give the film a connection back to Van Helsing's device in Dracula. There's even a surreptitious reference to Kneale's "stone tape" theory when Kidd says that the ghostly sounds he keeps hearing are like a recording of a terrible event. Director Herbert Wise does some clever hide-and-seek business with the spectral woman, only fumbling things near the end when he makes the mistake of trying to imitate Jack Clayton's The Innocents. So why does this version still remain unsatisfying?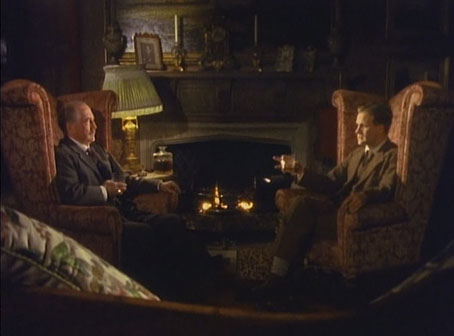 Bernard Hepton and Adrian Rawlins.
One reason is a mild dissatisfaction I have with the MR James brand of ghost fiction. Sheridan Le Fanu—a writer James admired—is often a lot weirder (one of his collections is The Watcher and Other Weird Stories); so too are James's contemporaries, Arthur Machen and Algernon Blackwood, both of whom were also better writers. As for HP Lovecraft, only twenty-two years separate Ghost Stories of an Antiquary from The Call of Cthulhu but they may as well be two centuries. Lovecraft's cosmic paranoia and references to Einsteinian physics throw into relief the parochial cosiness that surrounds James's stories. I think that cosiness is one of the factors that makes them so popular today, and which has made them so attractive to television. The same qualities would have made them appealing to Susan Hill who has since written more along these lines (The Small Hand even concerns an antiquarian book dealer). People seem to forget that MR James, HR Wakefield and co. were all writing about their own times, even if their characters were antiquarians. Nigel Kneale's Christmas ghost story for 1972, The Stone Tape, was set in 1972, not 1912, but the James mode is now firmly entrenched as the default setting for the festive season. On Christmas Day this year the BBC will be screening Mark Gatiss's adaptation of The Tractate Middoth; this has been updated but only to the 1950s. I'll be watching it, of course, and hoping for the best.
At the New Statesman John Sutherland talks to Mark Gatiss about his production, and also looks at the history of the seasonal ghost story. Elsewhere, Anne Billson can tell you why she thought the Hammer film of The Woman in Black wasn't scary at all. If you want to see the Nigel Kneale version then it's on YouTube which is the best you'll get until it's released on DVD again, whenever that may be. If you've never seen it then it's worth a watch.
Previously on { feuilleton }
• Schalcken the Painter revisited
• Robin Redbreast by John Bowen
• Stone Tapes and Quatermasses
• Nigel Kneale's Nineteen Eighty-Four
• The Stone Tape
• "Who is this who is coming?"