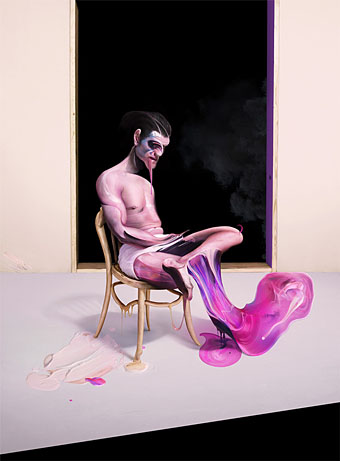 Shadows (1974) by Pawel Nolbert & Lukasz Murgrabia, one of three images recreating Francis Bacon's Triptych–August 1972.
• Breaking the Code (1996), a BBC film by Herbert Wise based on Hugh Whitemore's stage play about Alan Turing. Wise's film has been linked here before but it's relevant again thanks to the release of The Imitation Game. Derek Jacobi played Turing on stage and screen, and Whitemore's script managed to deal with Turing's life and work without insulting the man or the intelligence of its audience.
• "…if you listen to A Beacon From Mars by Kaleidoscope or if you listen to some Turkish taxim then something starts happening." Robert Plant talking to Julian Marszalek about the music that excites him.
• "CGI has become wearingly dull and clichéd. Can its deep weirdness be recovered and filmgoers' minds stretched again?" asks Jonathan Romney.
The cult of the Thirty-Seven Nats is unique to Burma. […] The junta's attempts to subdue nat worship had an unintended effect: the role of the nat wife was embraced by an already marginalized group. Homosexuality is illegal in Burma and has been since its British colonizers instituted a late-nineteenth-century ban on "intercourse against the order of nature". Government restrictions opened a professional vacuum, says scholar Tamara C. Ho. Becoming a nat kadaw offered the achauk—a Burmese term for gay and transgender men—both "a vocation and queer visibility".

After the Green Death by Will Boast
• "Cat memes and other frivolities aren't the work of an Internet culture. They're the work of an American one, " says Caitlin Dewey.
• Hear the cavernous reverb of Berlin's Kraftwerk captured by Emptyset's James Ginzburg and Yair Elazar Glotman.
• Take part in the first #psychedelicpride photoshoot in central London on Saturday, December 13th.
• Mix of the week: FACT Mix 470 by Jonny Trunk who also appears in the list of vinyl hoarders below.
• Queer Noise: Abigail Ward on the history of LGB music and club culture in Manchester.
• More photos of the steampunk exhibition at 751 D-Park, Beijing, China.
• A chronological list of synth scores & soundtracks.
• Animated photography by Julien Douvier.
• A Third Ear Band archive at SoundCloud.
• The secret lives of vinyl hoarders.
• Taxim (1968) by Kaleidoscope | Water (1970) by Third Ear Band | Love Is The Devil (1998) by Ryuichi Sakamoto