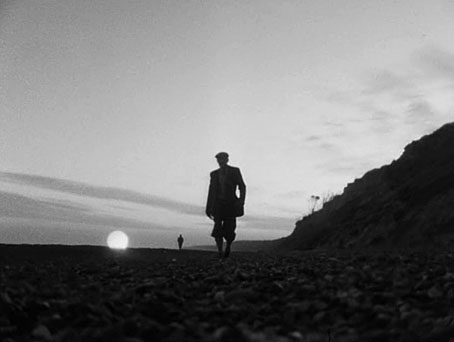 Whistle and I'll Come to You (1968).
He blew tentatively and stopped suddenly, startled and yet pleased at the note he had elicited. It had a quality of infinite distance in it, and, soft as it was, he somehow felt it must be audible for miles round. It was a sound, too, that seemed to have the power (which many scents possess) of forming pictures in the brain. He saw quite clearly for a moment a vision of a wide, dark expanse at night, with a fresh wind blowing, and in the midst a lonely figure—how employed, he could not tell. Perhaps he would have seen more had not the picture been broken by the sudden surge of a gust of wind against his casement, so sudden that it made him look up, just in time to see the white glint of a sea-bird's wing somewhere outside the dark panes.

MR James, Oh, Whistle, and I'll Come to You, My Lad.
One of the alleged highlights of this year's Christmas television from the BBC was a new adaptation of an MR James ghost story, Oh, Whistle, and I'll Come to You, My Lad. The film starred John Hurt and came with the same truncated title, Whistle and I'll Come to You, as was used for Jonathan Miller's 1968 version, also a BBC production. The story title comes originally from a poem by Robert Burns. The new work was adapted by Neil Cross and directed by Andy de Emmony, and I describe it as an alleged highlight since I wasn't impressed at all by the drama, the most recent attempt by the BBC to continue a generally creditable tradition of screening ghost stories at Christmas. Before I deal with my disgruntlement I'll take the opportunity to point the way to some earlier derivations. (And if you don't want the story spoiled, away and read it first.)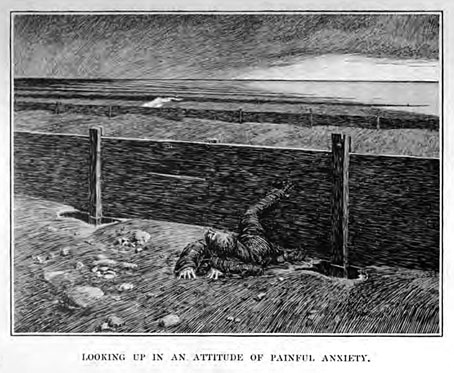 Illustration by James McBryde (1904).
James's story was published in 1904 along with seven others in Ghost Stories of an Antiquary, the first of four supernatural collections which were adjuncts to the author's theological researches but are now the works for which the name MR James is most widely recognised. A first edition can be found at the Internet Archive which is worth seeing for its illustrations by James McBryde, a friend of James who died before he had a chance to finish illustrating the book. He did manage to complete the two drawings for Whistle shown here and it's a shame the scanned edition is another poor job by Google who haven't copied the pages in high-resolution and manage to blur the linework. McBryde's second drawing has also been used as a cover illustration for various editions.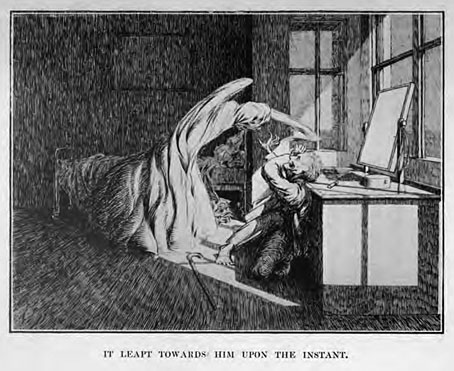 Illustration by James McBryde (1904).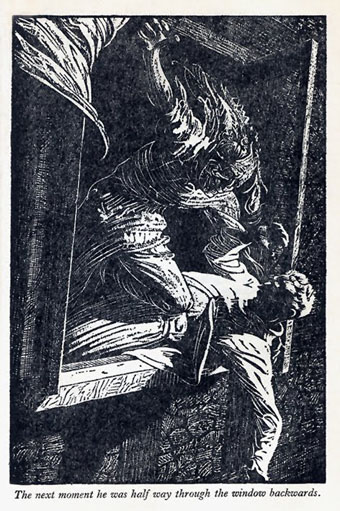 Illustration by Ernest Wallcousins (1947).
The 1947 edition of The Collected Ghost Stories of MR James features a frontispiece by Ernest Wallcousins depicting the moment when Whistle's unfortunate Professor Parkins is nearly pushed out of his bedroom window by the vengeful ghost. Both McBryde and Wallcousins yield to the temptation of showing us the climax of the story and the ghost itself, something which is arguably a bad idea for this kind of tale. In Wallcousins' case the nebulous spirit has gained a distinctly brawny arm. Ghosts and monsters may share some qualities but ghosts in the James manner exist for the most part as intimations whose presence the reader's imagination brings to life. Forcing these intimations into a solid representation does them few favours, a problem which also bedevils film and television adaptions.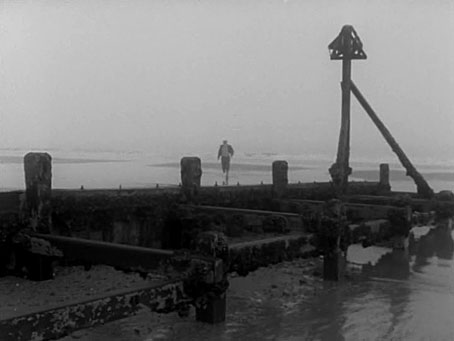 Whistle and I'll Come to You (1968).
Jonathan Miller's version of the story dealt superbly with this issue, managing to hint at much and show little except for a couple of crucial moments. Miller aged the character of Parkins (Michael Hordern) with no detriment to the story, and with a recurrence of reflected images suggested that the presence summoned by the blowing of an ancient whistle might be a spectre from Parkins' imagination. It's amusing to read now of James purists being upset by these minor changes, the maulings sustained by the most recent version must have ruptured blood vessels. Miller's film is an excellent example of how to adapt a short story for the screen.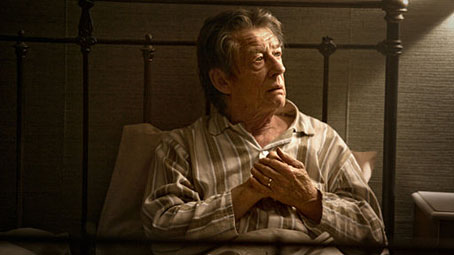 Whistle and I'll Come to You (2010).
Had Miller's version remained unseen since 1968 there might have been a reason to make a new adaptation of the story but it's not a buried treasure by any means; the BBC have shown it several times since, the BFI released it on DVD in 2001 and the film is very familiar to all aficionados of these ghost films. More damaging than the attempt to compete with Miller's version was the ruinous altering of the narrative and a mise en scène which showed little grasp of what makes an MR James story effective.
Neil Cross's adaptation updated James to the present day, a manoeuvre that might have worked if it wasn't for a clumsy attempt to explain why Hurt's character wouldn't summon help with his mobile phone. Clumsier still was the tone of the whole thing which seemed ghostly from the outset, with its semi-catatonic characters and gloomy, vapour-filled interiors. John Hurt's retired scholar was given an absent wife and discovered a ring instead of the Templar's whistle, a detail which made nonsense of the story's title and also lost the motor of the story. In place of the escalating horror of Miller's dream sequence there was a confusion of unrelated images. This kind of mangling has never made sense to me, it implies a lack of faith in the original material which the producers have nevertheless committed themselves to adapting. "We can't work convincingly with this hokum," it seems to say, "but we'll do something with it anyway." The film's biggest shocks—someone or something hammering on a hotel door at night—were not only further impositions on the original tale but were plundered wholesale from one of the greatest of all ghost films, Robert Wise's The Haunting. Neil Cross might have benefited from reading James's own ghost story recipe:
Let us, then, be introduced to the actors in a placid way; let us see them going about their ordinary business, undisturbed by forebodings, pleased with their surroundings; and into this calm environment let the ominous thing put out its head, unobtrusively at first, and then more insistently, until it holds the stage. (more)

From the introduction to Ghosts and Marvels (1924).
MR James published twenty-six ghost stories during his lifetime, only a handful of which have been adapted for film or television. In choosing to rework something which already exists in a superior version the BBC show themselves adept at least in competing with the worst tendencies of Hollywood, where producers and directors see something they like from the past and believe for whatever reason that it can be refreshed or even improved upon. For UK viewers the new Whistle will be screened again late tonight on BBC 1. Anyone who finds themselves unsatisfied by this is encouraged to search out some of the earlier adaptations (see below). Future adaptors, meanwhile, might try creating something new instead of messing with things better left undisturbed.
Recommended viewing:
• Whistle and I'll Come to You by MR James (1968)
• The Stalls of Barchester by MR James (1971)
• A Warning to the Curious by MR James (1972)
• The Stone Tape by Nigel Kneale (1972)
• Lost Hearts by MR James (1973)
• The Treasure of Abbot Thomas by MR James (1974)
• The Ash Tree by MR James (1975)
• The Signal-Man by Charles Dickens (1976)
• Casting the Runes by MR James (1979)
• Schalcken the Painter by J. Sheridan Le Fanu (1979)
Further information:
• Ghosts and Scholars, home of the MR James Newsletter
Elsewhere on { feuilleton }
• The illustrators archive
Previously on { feuilleton }
• Penda's Fen by David Rudkin
• Kwaidan
• The Watcher and Other Weird Stories by J Sheridan Le Fanu
• Alice in Wonderland by Jonathan Miller
• The Willows by Algernon Blackwood