Here at last, the two Broadcast reissues and the album of officially released radio sessions. I already had much of the music so these purchases are mostly for reasons of cult completism and the Julian House cover designs. Mr House had already designed the rest of the Broadcast discography, as well as collaborating with them in his Focus Group guise, so this continuity was essential.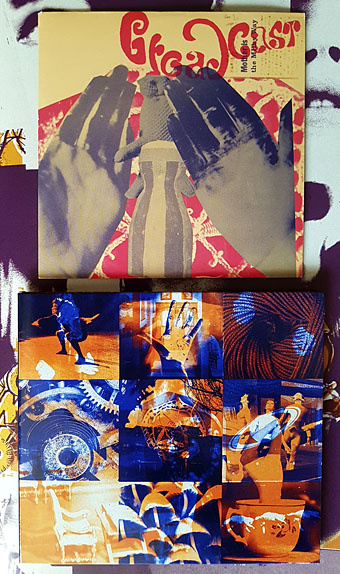 Also essential, music-wise, is the Mother Is The Milky Way EP even though it's only 20 minutes long. This was originally limited to 750 copies sold during the 2009 tour so it's always been hard to find. Musically, it's of a piece with the Witch Cults Of The Radio Age album, and just as beguiling, a dreamy mélange of song fragments and sound samples—Kurt Schwitters' Ursonate colliding with Jonathan Miller's Alice in Wonderland—that's more genuinely "psychedelic" than many attempts to conjure these qualities by mimicing old musical styles. The overlaid images on the cover may be alluding to the layered sounds…and are those magic mushrooms in one of the squares? Answers on a lysergic sugarcube.
The two Microtronics EPs were intended to be functional works rather than entertainments, "Music for links and bridges", although I don't know if they've ever been used as such outside Broadcast mixes. These were also sold on separate tours as mini CDs but they now come packaged together, including a first-time release on vinyl which will keep the fetishists happy despite the format seeming like overkill for a collection of 21 very short squawks and drum loops.
Maida Vale Sessions will also be essential for some listeners, comprising the group's three sessions for John Peel's show (1996, 2000, 2003) plus one from 1997 for Steve Lamacq's Evening Session, 54 minutes in total. Being a collector of Broadcast bootlegs I already had most of these but they sound so much better coming from the original recordings. The final session, which I hadn't heard before, is a fantastic set, and includes one of their few covers, a version of Sixty Forty by Nico. John Peel was an enthusiast, unsurprisingly, who may be heard on a bootleg of a Birmingham concert introducing the group as "one of the nation's great bands".
And if any of the above has stimulated your interest, Warp Records wisely commissioned The Gaslamp Killer to create an hour-long mix from the new records which may be heard here.
Previously on { feuilleton }
• Esoterica 49
• Peter Strickland's Stone Tape
• Valerie and Her Week of Wonders
• The Ghost Box Study Series