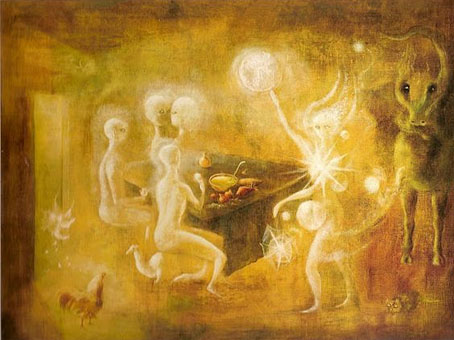 Sidhe, the white people of the Tuatha Dé Danann (1954) by Leonora Carrington.
• January brings a wealth of recommended-reading lists for the new year, together with the feeling that many of those lists are merely clones of each other. Not so the recommendations at Strange Flowers which also includes links to forthcoming events such as this exhibition of Symbolist art at the Guggenheim, New York.
• Some Ceremonies are Better than Others, an exhibition of sound objects and drawings by Matthias König & Ibrahim R. Ineke inspired by Arthur Machen's The White People, at The Bries Space, Borgerhout, Belgium, from 21st January. Previously: Ineke's comic-strip adaptation of the Machen story.
• "These must-reads explore Dada, Futurism, Surrealism, and the art of opposition," says Carol Cooper. One of the titles under discussion is the Bruce Sterling book I designed and illustrated last year, Pirate Utopia. Sterling talked to Wired about the book and its relation to the present moment.
• RIP Mark Fisher, a cultural theorist whose death was announced just as extracts from his latest book, The Weird and the Eerie, were beginning to appear. One of those extracts is at The Quietus. Related: Fisher's k-punk blog and its earlier incarnation.
• James Cargill (ex of Broadcast) announces a debut release by his new group, Children of Alice. Related: Jonathan Miller's 1966 TV film of Alice in Wonderland rescored with Broadcast songs.
• We are the Martians: the Legacy of Nigel Kneale, a collection of Kneale-related essays and appreciations edited by Neil Snowdon, is finally appearing in print from PS Publishing.
• Pursuing paths hauntological, The Electric Pentacle offers "an unholy stew of library music, Kosmische, arcane ritual electronica, modular synthesisers and shortwave radio".
• Mixes of the week: The Ivy-Strangled Path Vol. XVI by David Colohan, and Low Visibility Across Sunken Village by The Geography Trip.
• "With Reflection, [Brian Eno] offers generative music for a turbulent time," says Geeta Dayal.
• Anna Biller, director of The Love Witch, talks to New Jack Witch about her film.
• The story behind Gay Bob, the world's first out-and-proud doll.
• Alice (1969) by Jon Plum | Alice (1982) by The Sisters of Mercy | Alice (2009) by Sunn O)))