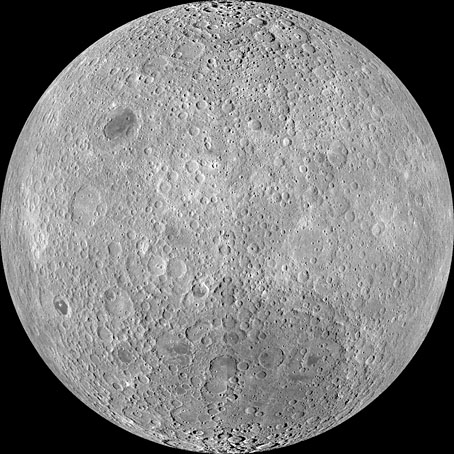 The Far Side of the Moon, as photographed by NASA's Lunar Reconnaissance Orbiter.
• "It goes against centuries of traditional belief to accept that the moon is barren, that it is indifferent, that it is innocent of any role in monthly spikes in the crime rate or in the cycles of menstrual unreason. When telescopic observation had found nothing on the near side (Roger Boscovich had established by 1753 that it lacks even an atmosphere), the far side still remained a site for the projection of fantasies of a different, neighbouring world." Justin EH Smith working his way towards a history of the dark side of the moon.
• "It shocks me that movies still lean in so hard to all these outmoded gay narrative tropes: coming out, coming of age; very identity-oriented representations of gay characters. It's much easier to represent a gay boy who's repressed in high school and comes out and makes friends. It's very mainstream, and kind of played out." Bruce LaBruce on cinematic trends in relation to his new film, a gay-porn take on Pasolini's Teorema.
• At Cartoon Brew: Pavel Sannikau explains how he developed his own techniques of digital animation in order to create the ever-expanding Floor796.
• There's always more Poe: Mysterium, Incubus et Terror, Poe-inspired music by a variety of artists, plus illustrations by John D. Chadwick.
• At Smithsonian Magazine: The results of a themed contest in the Close-Up Photographer of the Year Challenge.
• Mixes of the week: In Praise of the Saddest Chord at Ambientblog, and The Funky Eno Pts 2 & 3 by DJ Food.
• Steven Heller talks to Hungarian artist István Orosz about his Escher-like drawings.
• At Unquiet Things: Caitlin McCormack's ghostly chains of knotted memory.
• At Spoon & Tamago: Intricate and organic sculptures by ceramicist Eriko Inazaki.
• New music: Illumina by Call Super with Julian Holter.
• Dark Side Of The Mushroom (1967) by The Chocolate Watchband | Dark Side Of The Star (1984) by Haruomi Hosono | On The Dark Side Of The Sun (live) (2003) by Helios Creed