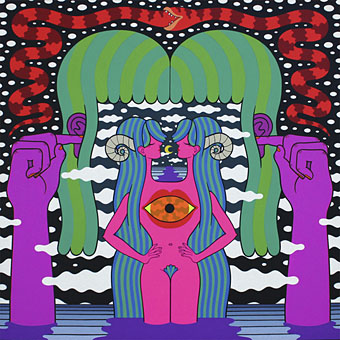 The Sapphic Sleep Web by Oliver Hibert.
• "Google isn't willing to say whether or not it's censorship. That they don't have to even address this is what's so shocking, It seems like cowardice." Dennis Cooper talking to Andrew Durbin at Frieze about Google's unexplained deletion of his long-running blog. Cooper's case has been covered by arts sites and some newspapers but I've yet to see any mention at all on the main US gay news sites despite Cooper being a notable gay author. I've cast aspersions at those sites in the past for their obsession with terrible pop acts and off-topic trivia (one site still reports every last fart of Britain's Royal Family as "news"); this recent issue only reinforces their irrelevance.
• Creating Jerusalem: Alan Moore on the most important book he has written. Related: Alan Moore uses nine-year-old's fan letter on new book's cover.
• "Whatever side of the aisle you're on, HL Mencken is as relevant as ever," says Paula Marantz Cohen.
To say that Goodbar is an obsessive and symbolically overdetermined film would be an understatement: the film compulsively reiterates themes, visual motifs and parallel narratives, a relentless and repetitive reiteration of ideas that lends that film the aspect of a Freudian dream landscape, a baroque, Boschian sequence of fantasies, projections and illusions.

Bruce LaBruce on Richard Brooks' film of Looking for Mr. Goodbar
• Mare Teno by Michel Redolfi, performed by Thomas Bloch, Susan Belling & Michel Redolfi.
• From 2015: Suicide's Alan Vega Talks Fiery Record With Big Star's Alex Chilton.
• Mix of the week: The Takeover with Front & Follow & The Geography Trip.
• Psychic Spaces & Neon Nirvana: The Art of Oliver Hibert by S. Elizabeth.
• How William Burroughs's drug experiments helped neurology research.
• Yello, absurdist Swiss pop pioneers, return with a new video, Limbo.
• Morphologies Masterclass: Ramsey Campbell on HP Lovecraft.
• Cliff Martinez on horror, homage and The Neon Demon.
• A City of Dust: photos of London by Lewis Bush.
• Dust To Dust (1986) by Ginger Baker | Neon Sisters (1992) by Thomas Dolby | Limbo (1992) by Sandoz