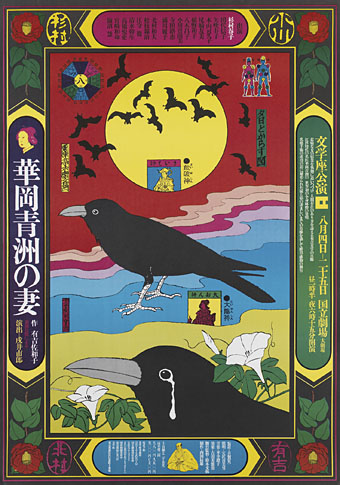 Seishu Hanaoka's Wife (1970) by Awazu Kiyoshi.
• Hoodoo, Conjuration, Witchcraft & Rootwork: a colossal new addition to the Internet Archive, being a 5-volume, 4766-page collection of folkloric material gathered by Harry Middleton Hyatt in Alabama, Arkansas, Florida, Georgia, Illinois, Louisiana, Maryland, Mississippi, North Carolina, South Carolina, Tennessee, and Virginia between 1936 and 1940.
• Edward Gorey is the theme du jour, so here's some more: Gorey's 1977 appearance on The Dick Cavett Show is revelatory, especially if you've never seen him talking before. Meanwhile, Laughing Squid has a previously unpublished interview in which Gorey discusses his love for his disruptive cats.
• Jeff Nuttall's mid-century survey of the aesthetic underground, Bomb Culture, receives a fiftieth anniversary republication by Strange Attractor. The new edition is edited by Douglas Field and Jay Jeff Jones, with a foreword by Iain Sinclair and an afterword by Maria Fusco.
I have always questioned identity politics with my work. I often have characters that engage in homosexual sex but do not identify as gay (hustlers, neo-Nazi skinheads, extreme left wing revolutionaries, gerontophiles, etc.). But my films have also always been inclusive in terms of race, class, and gender. I find that the new emphasis on identity politics has really narrowed creative expression. It demonstrates a profound ignorance about sexuality, history, and human experience.

My sexual identity is pretty much fixed—I'm a Kinsey 6, if not a 7—but I acknowledge that this means I'm sexually repressed. I believe, after Freud, that everyone has some bisexual potential, and the tendency to increasingly entrench gender identity as innate and immutable is really preposterous. It also leads to strict rules about sexual representation—how gays, lesbians and transgender people "must" be portrayed, the policing of representation, a kind of proprietary stance about who is allowed to portray these characters.

It really boils down to a naivety about sexuality, and a complete failure of the imagination. It discourages people who may have the potential for some kind of sexual fluidity to express themselves. I've always been a "bad gay," but now this political correctness has made me feel even more alienated from the notion of "gay identity"—particularly since the new assimilationist model is so conservative and dull.

Filmmaker Bruce LaBruce discussing art, porn and politics with Hoçâ Cové Mbede
• "Who is Barbara Baranowska? Despite the so-called Polish Poster School's fame, certain people were seemingly forgotten. Perhaps they even wanted it that way…" Daniel Bird on an elusive artist. Related: Selected works by Barbara Baranowska.
• "I don't think I'm ever mean-spirited and I try to understand human behaviour even though it's impossible," says John Waters.
• Nine Dimensional Synod Of Oblique Pleasures is a very welcome new release by The Wyrding Module.
• Galerie Dennis Cooper presents…The Resplendent Illegibility of Extreme Metal Logos.
• Apocalypse Burlesque — Tales of Doomsday Eros: a new book by Supervert.
• Rare booksellers rallied against an Amazon-owned company and won.
• B. Alexandra Szerlip on the 80-year history of the ballpoint pen.
• Anjelica Huston: how we made The Addams Family.
• Mix of the week: Secret Thirteen Mix 270 by Okkre.
• The Cabinet of the Quay Brothers
• Hoodoo Man Blues (1965) by Junior Wells' Chicago Blues Band | Evil Hoodoo (1966) by The Seeds | I Been Hoodood (1973) by Dr John