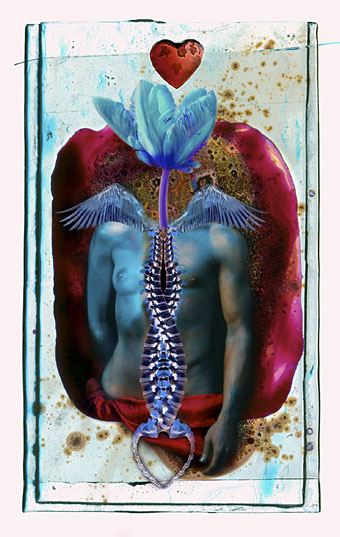 Caduceus: Tarot Card Study – Love by Holly Warburton.
• The week in stage magic: Ken Carbone, writing about playing cards and graphic design, points the way to an hour of Ricky Jay demonstrating his miraculous abilities with a pack of cards. Elsewhere, Erik Ofgang asks "Who was Mr. Electrico, the sideshow magician who inspired Ray Bradbury—then vanished?"
• The 1980 Floor Show – Uncut / Unedited: 8 Hours of David Bowie in Ziggy Stardust guise performing for American TV cameras at The Marquee, London, in October 1973. That's more Bowie than most people would want—there's a lot of repetition—but it's good to know things like this can still surface.
• "A supernova has gone out," says David Grundy about the late Wayne Shorter. Also this: "Sci-fi fan Shorter suggested the title to [Weather Report's] second album I Sing The Body Electric, taken from Walt Whitman via Ray Bradbury."
• "We need to get away from thinking of ourselves as machines… That metaphor is getting in the way of understanding living, wild cognition." A long read by Amanda Gefter about the secret life of plants, and "4E" cognitive science.
• "…why take a soft approach to safety when you can scare the sensible into the next generation with some of the most effective horror shorts of all time?" Ryan Finnegan on the notorious PIFs (public information films) of the 1970s.
• "I am increasingly of the Lynchian mindset of 'never explain'…" Lynda E. Rucker talking to Steven Duffy about her latest story collection, Now It's Dark.
• James Balmont presents a brief introduction to the mind-altering cinema of Sogo Ishii.
• At Spoon & Tamago: Hidari: An epic wooden puppet samurai stop-motion film.
• Old music: Musique De Notre Temps (1976) by Éliane Radigue.
• Steven Heller's font of the month is Juma.
• Body Electric (1982) by The Sisters Of Mercy | Super-Electric (1991) by Stereolab | Electric Garden (Deep Jazz In The Garden Mix) (2013) by Juan Atkins & Moritz von Oswald