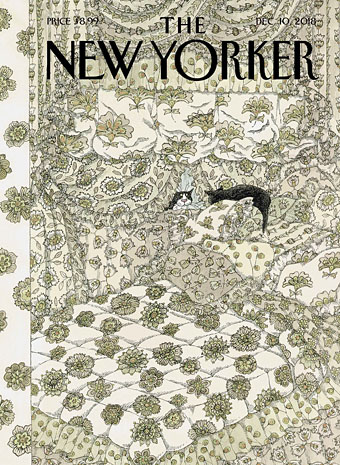 • Yet more Gorey: Mark Dery's biography of the artist prompted The New Yorker to unearth a piece of cover art that Edward Gorey submitted 25 years ago. In the same magazine Joan Acocella reviews Dery's book and examines Gorey's life and art. At Expanding Mind, Erik Davis talks with Mark Dery about Surrealism, the gay voice, Penny Dreadfuls, and the occult and Taoist influences in Gorey's work.
• Moving Through Old Daylight: Mark Fisher, Jim Jupp & Julian House of Ghost Box Recordings, and Iain Sinclair in conversation at the Roundhouse, Camden, London, 5 June 2010. Topics under discussion included Nigel Kneale, TC Lethbridge, John Foxx, BBC Radiophonic Workshop, alchemies of sound, the homogenisation of culture, imagining space and the impersistence of memory.
• "A radical retelling of our relationship with the cosmos, reinventing the history of astronomy as a new form of astrological calendar." The Space Oracle by Ken Hollings.
There was a deliberate, almost prickly quality to Fisher's writing and thinking that is rare nowadays, when criticism is more likely to involve open-minded rationalizing than steadfast refusal. He was not one to frolic in ambiguity or irony. "Just because something is current doesn't mean it is new," he writes in K-Punk, as he wonders if a time traveller from the nineties would find any contemporary music as radical as post-punk or jungle had once seemed to him. When everything is cheerfully "retro," Fisher argued, we lose our grasp on history—and, without a sense of why the past happened the way it did, our anything-goes embrace of "happy hybridities" is an empty gesture. "What pop lacks now is the capacity for nihilation, for producing new potentials through the negation of what already exists," he writes.

Hua Hsu on Mark Fisher's K-Punk
• At Wormwoodiana: Mark Valentine on The Wind Protect You (1946), a novel by Pat Murphy which Mark describes as a forgotten precursor of Watership Down.
• "At once tiny and huge: what is this feeling we call 'sublime'?" Sandra Shapshay explores the Romantic aesthetic.
• Dennis Cooper's favourite fiction, poetry, non-fiction, film, art, and internet of 2018. Thanks again for the link here!
• Mixes of the week: XLR8R Podcast 572 by Nastia, and FACT Mix 683 by Casino Versus Japan.
• A Child's Voice (1978) by David Thomson, an overlooked ghost story starring TP McKenna.
• Jean Cocteau's Orphée returns from the underworld via BFI blu-ray next month.
• Rated SAVX: The Savage Pencil Scratchbook
• Orpheus (1967) by The Walker Brothers | Orpheus (1987) by David Sylvian | Overture To Orpheus (2003) by Colin Booth