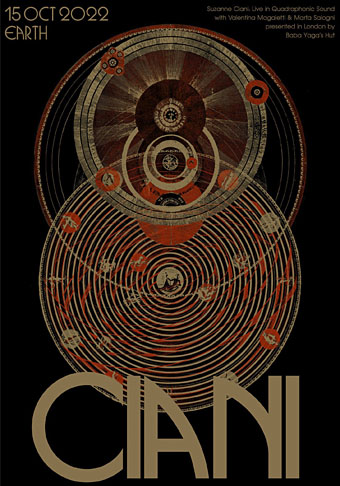 A Risograph print by Raimund Wong for a forthcoming London concert by Suzanne Ciani. Via.
• "What makes him such an exemplary film composer is the adroitness with which he used style as a catalyst, conspiring with directors to illuminate crucial elements of character, tone, and plot through the expressive resources at his disposal." Nate Chinen on Henry Mancini, a timely piece since I've been watching a lot of film noir recently, including two of the features mentioned there, Touch of Evil and Experiment in Terror. The latter is an uncharacteristic thriller from Blake Edwards with a marvellous, brooding score by Mancini. Here's the main theme.
• "Infinitesimal as they are, phytoplankton produce more oxygen than all the world's rainforests combined and roughly half of the oxygen on the planet—in other words, roughly half of the air we humans breathe." David Greer on the importance of plankton.
• "Someday I'll come into a place and someone's playing my music and I'll leave immediately because I don't want to go through the editorial process again!" Diamanda Galás talking to Kevin Mccaighy about her new album, Broken Gargoyles.
• At Dennis Cooper's: 25 experimental horror films. Not sure I'd class Night of the Lepus as "experimental"—"rubbish" would be more accurate—but you may disagree.
• Coming soon from Strange Attractor: 69 Exhibition Road: Twelve True-Life Tales from the Fag End of Punk, Porn & Performance by Dorothy Max Prior.
• At Spoon & Tamago: Gunkanjima (aka Battleship Island) from above: exploring what was once the world's most-densely populated city.
• Previews of pages from A Tiger in the Land of Dreams by Tiger Tateishi, newly reprinted by 50 Watts Books.
• Mix of the week: A mix for The Wire by Ali Safi of the Marionette label.
• New music: Verde Pino by Beautify Junkyards.
• Mark Pawson & Disinfotainment
• Tiger Rag (1929) by Duke Ellington And His Orchestra | Night Of The Tiger (1959) by The Markko Polo Adventurers | Tiger (1967) by Brian Auger & The Trinity