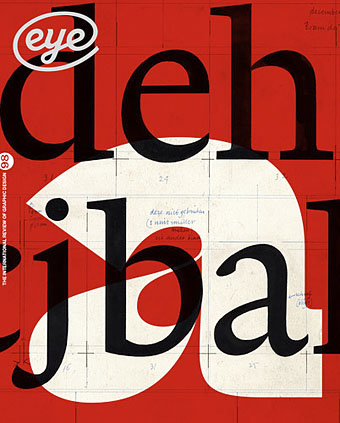 Eye 98: Beatrice Display Black, Sharp Type, 2018, and a detail from an original drawing for Lexicon by Bram de Does, 1989.
• Issue 98 of Eye, the international design journal, is out this month. The new issue is a typography special but also features my review of Mark Dery's Born to be Posthumous: The Eccentric Life and Mysterious Genius of Edward Gorey. This is the second time I've written about Dery's book, with the new piece focusing more on Gorey's work as a designer/book creator, and his place in the history of illustration.
• Portal is a new release by Slovakian metal band Doomas, the artwork of which adapts one of my illustrations for Lovecraft's Monsters. The band also have a suitably Lovecraftian video.
• Reading recommendations by M. John Harrison: the old (the excellent Rogue Moon by Algis Budrys) and the new (Underland et al).
I first started drawing in my Wake to count the number of rivers mentioned in an episode, one page alone counting 85. Gradually, I would be so moved by a line or a character I would colour them in, the most obvious being the 28 Rainbow girls to the more obscure nebulae, railroad tracks, hidden mythical islands and turn of the century lightships. Themes began to emerge which demanded documentation and always the sad, ecstatic relief of finishing a chapter merited some sort of coloured tribute. By the time I finished four years later, I simply drew a leaf to reflect Joyce's metaphor on the last page: my leaves have drifted from me. All. But one clings still.

Susie Lopez on Finnegans Wake at 80
• Old ghosts at The Paris Review: a preview of The Spectacle of Illusion by Matthew L. Tompkins.
• At Dangerous Minds: Malcolm McDowell and the making of Lindsay Anderson's O Lucky Man!
• Herbie Hancock: "I felt like I stood on the shoulders of giants and now it's my turn".
• Mix of the week: XLR8R Podcast 590 by Christian Löffler.
• The discography of Diamanda Galás is now at Bandcamp.
• RIP Quentin Fiore, graphic designer and book creator.
• At Dennis Cooper's: Haunted dolls.
• Antique Doll (1967) by The Electric Prunes | The Doll's House (1980) by Landscape | Voodoo Dolly (1981) by Siouxsie And The Banshees