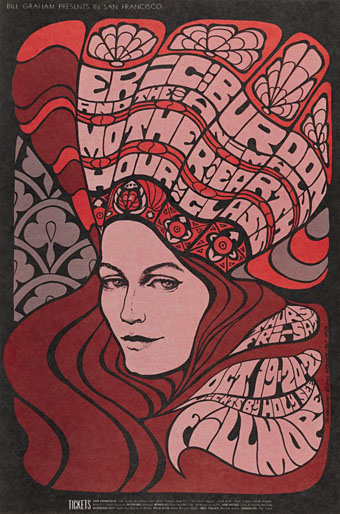 Eric Burdon and the Animals, Mother Earth, Hour Glass; Fillmore Auditorium, October 19-21, 1967 by Bonnie MacLean.
• RIP Bonnie MacLean, another of the original San Francisco poster artists, and the only woman of note in the US psychedelic poster scene. (Not the only woman, however; in Europe we had Marijke Koger.) Related: Bonnie MacLean's posters at Wolfgang's. And RIP to illustrator Tom Adams, an artist whose exceptional covers for novels by Agatha Christie are only one part of a long and varied career.
• The Litanies Of Satan (1982), the short but uncompromising debut album by Diamanda Galás, is reissued on Galás's own label later this month. Further albums from her remarkable back catalogue will follow. Related: video of Galás performing The Litanies Of Satan in 1985.
• "Scorsese is amazed that United Artists didn't touch one frame of Raging Bull, since it's the first time in his life as a feature director that this has apparently occurred." In 1981 Derek Malcolm talked to Martin Scorsese about his reasons for making a boxing picture.
"…in a post-AIDS world, its scenes of mass male-on-male decadence evoke a sense of the spiritual: Not to put so blunt a phrase on it, but the majority of the men we see in Cruising's bars would likely die within the next decade, victims of a very heterosexual genocide of neglect. These are blurred, melancholic memories locked forever within Cruising's celluloid; a phantasmagoria of men whose liberation was not legislatively delivered, but recovered in the privacy of leather bars and cruising joints. The film's overt sexuality makes it hard to escape a sense of catastrophic loss."

Jack King on William Friedkin's Cruising
• The Pet Shop Boys' eccentric feature film, It Couldn't Happen Here (1988), is released on blu-ray and DVD in June. The video for You Were Always On My Mind gives an idea of the contents.
• "Orion being one of the brightest constellations makes it a lot of people's favourites, and he was my favourite as a kid." Ben Chasny on his history of stargazing.
• "You think the Holy Grail is lost? No. I have it on my piano." John Boorman talks to Xan Brooks.
• Laura Cumming on the dark and haunting paintings of Belgian Symbolist Léon Spilliaert.
• Mix of the week: XLR8R Podcast 631 by Ondness.
• Alistair Ryder chooses 10 great killer plant films.
• Howl by John Foxx And The Maths.
• At Dennis Cooper's: Gleam.
• The Litanies Of Satan (1969) by Ruth White | Grail (1971) by Grail | Plants' Music (1981) by Ippu-Do