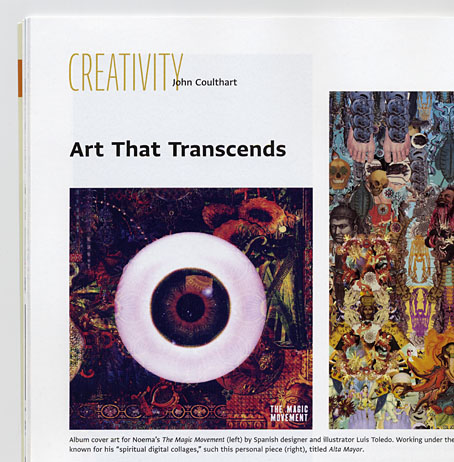 Late last year, US design magazine Communication Arts asked me to write a piece about psychedelic art, past and present. The resulting feature has been out for a couple of weeks in the May/June issue (no. 56) but I hadn't seen it in print until a copy turned up today. Attempting to wrangle discussion of a very wide-ranging and amorphous field into 1500 words isn't an easy task but I managed to sketch a history of psychedelic art beginning with Aldous Huxley and Humphrey Osmond's mescaline experiments in the 1950s. Art that can be considered psychedelic goes back into prehistory but Huxley's The Doors of Perception (1954) is the first book that considered art in general from a psychedelic viewpoint. That book, and the later Heaven and Hell (1956), are still valuable for their aesthetic meditations however much Huxley's optimism may have been tainted by the ferment of the 1960s.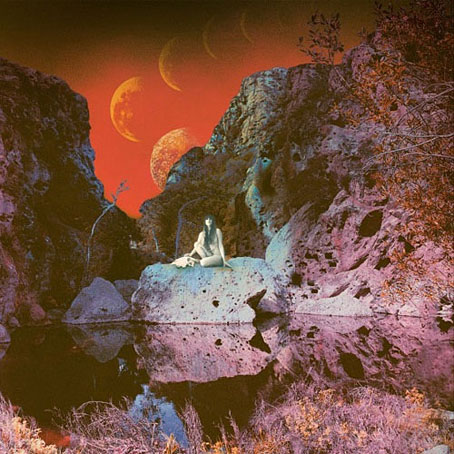 Primitive And Deadly (2014) by Earth. Art by Samantha Muljat.
The psychedelic art of the 60s isn't exactly overlooked so I paid more attention to tracing the influence of the psychedelic style, and also mentioning painters such as Ernst Fuchs, Alex Grey, Martina Hoffmann and Mati Klarwein. Among the more recent artists, I was pleased that Samantha Muljat's album cover for Earth was featured. I've been listening to this album a great deal over the past few months, and loved that cover as soon as I saw it. One of the other contemporary names, Brazilian artist Duda Lanna, works in a very different style: bold, vivid, and often abstract. There seems to be a lot of this kind of work around at the moment, so much so that I kept spotting new examples after the article had been delivered. It's difficult to say whether this is a developing trend or simply a case of there being more of everything around these days. I'll play safe and suggest it's probably a bit of both although, as I say at the end of the article, if the movement to legalise drugs gains momentum we can expect to see a lot more psychedelic art.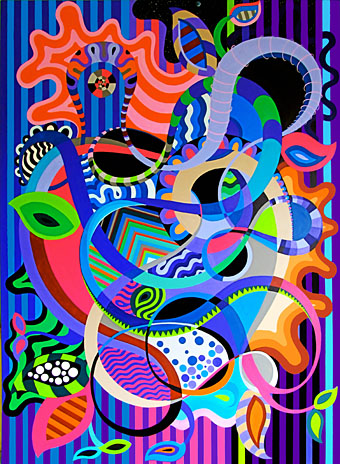 Garden of Psychedelic Delights by Duda Lanna.