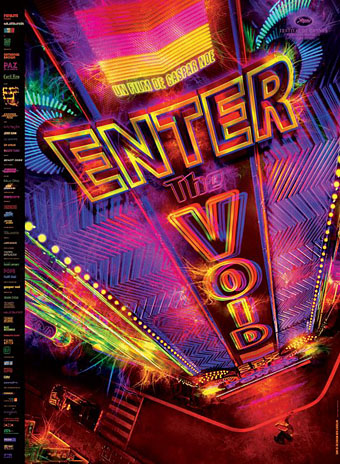 It's taken me a while to see this but the long search for a genuinely psychedelic feature film is over. That's genuinely psychedelic not in the debased sense of a handful of garish or trippy visuals, but in the full-spectrum expanded-consciousness sense for which Humphrey Osmond invented the term in 1956:
I have tried to find an appropriate name for the agents [psilocybin, mescaline, LSD, etc] under discussion: a name that will include the concepts of enriching the mind and enlarging the vision. My choice, because it is clear, euphonious, and uncontaminated by other associations, is psychedelic, mind-manifesting.
Other films have given us flashes of this kind of unfiltered experience—Chas's mushroom trip in Performance (1970), for example—or attempted to relay LSD states through Hollywood conventions: The Trip (1967) and Altered States (1980). Then there are inadvertently psychedelic moments such as the Star Gate sequence in 2001: A Space Odyssey (1968). Some of the most successful works from a psychedelic perspective have almost always been abstract, micro-budget films such as those made by James Whitney, Jordan Belson, Ira Cohen and others. But until very recently no-one had attempted to combine the narrative-free intensity of abstract cinema with a film narrative that would warrant placing psychedelic experience at the heart of the story. I was hoping A Scanner Darkly (2006) might do it but, good as it was, it didn't really get there. Gaspar Noé's Enter the Void is the film that gets everything right.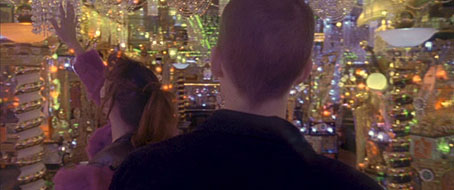 Linda and Oscar.
The narrative is a simple one (Noé calls his story a "psychedelic melodrama"): Oscar, a young American drug-dealer living in Tokyo smokes DMT, trips out for a while then goes to exchange some goods with a customer in a small club called The Void. While there he's shot and killed in a police raid. His disembodied consciousness leaves his body, and for the next two hours wanders the streets and buildings following his beloved sister, Linda, and his friends while they cope with the aftermath. Later on he starts to re-experience memorable (and traumatic) moments from his life. The Big Signifying Text in all of this is introduced in the opening scene: The Tibetan Book of the Dead. Oscar hasn't read much of it so his friend Alex quickly relates (for the benefit of the audience) the book's description of what happens to the soul between the time of death and rebirth into a fresh human body. A few minutes later we're with Oscar experiencing this very process in dizzying, miraculously-filmed detail. Flicking through my own copy of The Tibetan Book of the Dead (OUP, 1960) one paragraph in the introduction had particular relevance:
The deceased human being becomes the sole spectator of a marvellous panorama of hallucinatory visions; each seed of thought in his consciousness-content karmically revives; and he, like a wonder-struck child watching moving pictures cast upon a screen, looks on, unaware, unless previously an adept in yoga, of the non-reality of what he sees dawn and set.

WY Evans-Wentz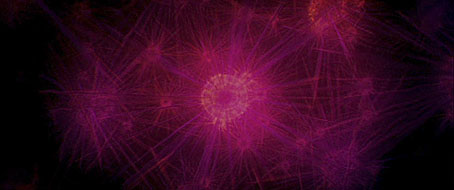 This is your brain on drugs: the DMT trip.
What's immediately remarkable about Enter the Void is that the entire film is viewed from Oscar's point of consciousness: we're inside his head from the opening shot on, stray thoughts, eye-blinks and all. We only see his face when he looks in the mirror. This has been done before, notably in Lady in the Lake (1947), to which Noé refers as an inspiration, and in parts of Strange Days (1995). But this is the first time the subjective viewpoint has featured drug disorientation and life after death. I have a slight fetish for these kinds of cinematic restrictions, having always enjoyed Hitchcock's Rope (a sequence of fifteen-minute takes) and Rear Window (everything seen from a single room) for their technical virtuosity. I enjoyed Cloverfield more than I might have otherwise for its unbroken video-camera point-of-view. Enter the Void goes further than all of these by placing us inside the consciousness of someone capable of freely moving through any architectural space at will, as well as jumping back and forth in time. Disembodied Oscar can also enter the heads of those he's observing, at one point entering the head of his sister's boyfriend while the pair are having sex. The practicalities required to make all of this perfectly seamless staggers the mind. The director alludes in the DVD booklet to the difficulties posed by the shoot.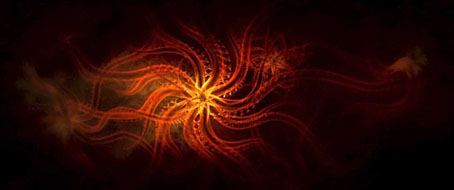 Part of the beauty of the film is that it's just as difficult to convey the experience of watching it as it is to convey the intensity of a drug experience. The only way to find out is to go there yourself, to enter the void. The many resonances of the title keep flashing at me: Noé refers to "the shimmering vacuity of human experience", so the void may refer not only to afterlife limbo but also to the heads of the people disembodied Oscar enters, as well as to their aimless lives. The content may be psychedelic but the director is a hard-edged realist, and despite the background presence of Tibetan Buddhism this is posthumous experience with any spiritual metaphoria stripped away: the void again. With the exception of Paz de la Huerta who plays Oscar's sister, Linda, all the principals are non-actors which, together with the camera technique, gives the film a documentary quality. Ken Loach would be the customary reference but Noé's direction owes a lot more to the great Alan Clarke (Penda's Fen, Scum, Made in Britain, Road, Elephant (1989), The Firm, etc) whose work Noé says he admires. Clarke's later TV films evolved a style of long, gliding takes using a Steadicam; it's no exaggeration to describe Enter the Void as being like Alan Clarke on acid.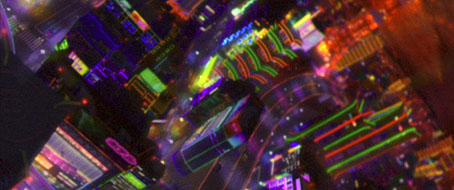 So here's the thing: this is one of the most ambitious and audacious films I've seen in a long, long time yet I've seen little or no discussion of it beyond the expected reviews. (Maybe people have been talking about it and I've missed it.) TV screening will be a problem in some places on account of some unfaked sexual activity at the end but I'm still surprised that the usual suspects I rely on to alert me to such things haven't caught it. Let this post serve as just such an alert. Peter Greenaway has been moaning for years about so much cinema being little more than filmed theatre. This is true in many cases but with a couple of exceptions Greenaway's solution has been to film an endless parade of semi-static tableaux whose aesthetics are often derived from the absolute stasis of oil painting. Enter the Void isn't an oil painting and it isn't a filmed play: it's 21st-century cinema.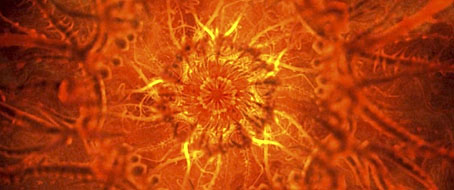 You want more? How about a soundtrack of stunning Wire-friendly eclecticism with pieces by Alvin Lucier, Annea Lockwood's glass music, Thomas Bloch on the Cristal Baschet (!), Bach arranged by Delia Derbyshire, Jean-Claude Eloy, Cristian Vogel, Hamburger Lady by Throbbing Gristle and ANS-One by Coil. Oh, and there's a killer title sequence. Did I say I enjoyed this film? Anyone with more than a passing interest in psychedelic culture needs to acquire the DVD immediately. I watched the director's cut, but there's also a shorter version present and some of the effects sequences as extras. Long or short, Enter the Void is a trip in all senses of the word.
Previously on { feuilleton }
• Chris Parks
• Penda's Fen by David Rudkin
• Matrix III by John Whitney
• Cristalophonics: searching for the Cocteau sound
• John Whitney's Catalog
• Arabesque by John Whitney
• Jordan Belson on DVD
• Ten films by Oskar Fischinger
• Lapis by James Whitney
• Expanded Cinema by Gene Youngblood