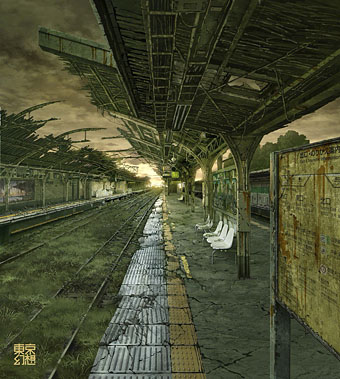 A rail station in ruins by Tokyo Genso. From a series of views of Tokyo showing a ruined and abandoned city.
• Old music technology of the week: The EKO ComputeRhythm, a programmable drum machine from 1972 used by Chris Franke (who didn't like the sounds so he used it to trigger other instruments), Manuel Göttsching (the rhythms on New Age Of Earth), and Jean-Michel Jarre (on Equinoxe); and Yuri Suzuki's digital reconstruction of Raymond Scott's Electronium.
• At Dennis Cooper's: Spotlight on…Ishmael Reed Mumbo Jumbo (1972), and DC's favourite fiction, poetry, non-fiction, film, art, and internet of the year so far. Thanks again for the link here!
• "Pauline told her to shove her shyckle up her khyber." Philip Hensher on the origins and revival of Polari, the secret gay argot. Related: a Polari word list, plus other links.
In Star, Mishima fuses his major theme of the mask, the public role all humans are destined to play out, with the theme of suicide, an act which Mishima considered a work of art. All of his work is punctuated by suicide, and it is peopled with masks, with people knowing they are nothing but masks, who are aware that the center doesn't hold because there is no center, that character is a flowing fixture, a paradoxical constancy and a definite variable, always.

Jan Wilm on Star, a novella by Yukio Mishima receiving its first publication in English
• "How have these places managed to transform from monuments to atrocity and resistance into concrete clickbait?" Owen Hatherley on the popularity of spomeniks.
• The late George Craig on translating the scrawl of Samuel Beckett's letters (written in French) into coherent English.
• Outsider Literature, Part 1: a Wormwoodiana guide by RB Russell.
• Mix of the week: Secret Thirteen Mix 291 by Arturas Bumsteinas.
• Symbiose, a split album by Prana Crafter and Tarotplane.
• Tokyo Shyness Boy (1976) by Haruomi Hosono | Tokyo (1979) by Jean-Claude Eloy | Tokyosaka Train (2002) by Funki Porcini