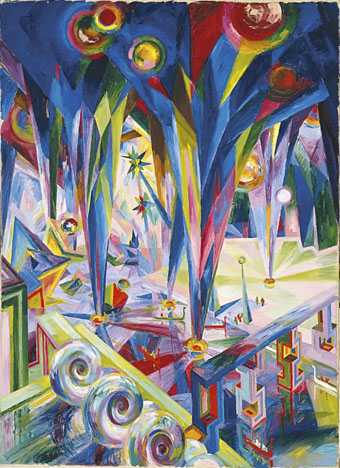 Interior of a Cathedral (1921) by Wenzel Hablik.
• The inevitable Cormac McCarthy features: "Cormac McCarthy took us beneath the surface," says Kevin Berger at Nautilus magazine, publishers of McCarthy's essay about the origins of language. At The Paris Review, three writers reminisce about reading McCarthy's fiction.
• At Bajo el Signo de Libra: Bhupen Khakhar (1934–2003). "Su obra examina las implicaciones políticas y socioculturales de la homosexualidad en la India."
• Dennis Cooper's favourite fiction, poetry, non-fiction, film, art, and internet of 2023 so far. Thanks again for the link here!
• New music: Telepathic Heights by Hawksmoor, and Golden Apples of the Sun by Suzanne Ciani & Jonathan Fitoussi.
• Mixes of the week: DreamScenes – June 2023, and isolatedmix 121: Oslated & Huinali Showcase mixed by S-Pill.
• At Unquiet Things: Crystal Castles and Harmonious Heavens: Wenzel Hablik's Glittering Utopias.
• At Public Domain Review: Wonder and Pleasure in the Oude Doolhof of Amsterdam.
• At Spoon & Tamago: Exploring Tokyo's Hidden Shrines.
• At Aquarium Drunkard: Bush Tetras interviewed.
• Ben Chasny's favourite albums.
• RIP Glenda Jackson.
• Utopiat No. 1 (1973) by Utopia | Utopia (2000) by Goldfrapp | Utopia (2013) by Brown Reininger Bodson