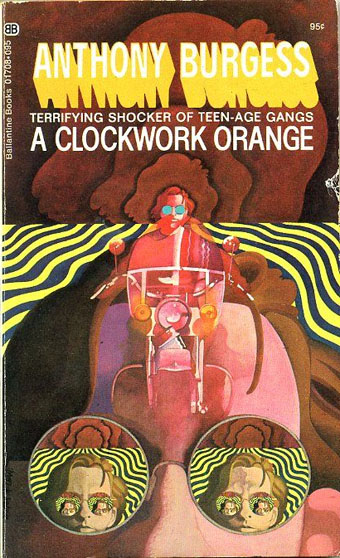 • Before Stanley Kubrick fixed an image of Alex and his droogs in the popular imagination, artists could get away with playing on the threat of biker gangs as Wilson McLean does in this vaguely psychedelic cover from 1969. (McLean's interpretation may possibly derive from a 1965 edition.) LibraryThing has a collection of Clockwork Orange covers from around the world which run the gamut of cogs, orange hues and variations on David Pelham's famous Penguin design from 1972. Meanwhile, AL Kennedy celebrates 100 years of Anthony Burgess by examining the writer's career as a whole, although the web feature still manages to get a photo of Malcolm McDowell in there.
• "Even bad books can change lives," says Phil Baker reviewing The Outsider by Colin Wilson and Beyond the Robot, a Wilson biography by Gary Lachman. I wouldn't call The Outsider a bad book but Wilson's more wayward opinions (and later works) are best treated with scepticism.
• "Murtaugh refers to his subject's 'pervasive sense of doom' and Welch himself speaks of 'the extraordinary sadness of everything.'" David Pratt reviewing Good Night, Beloved Comrade: The Letters of Denton Welch to Eric Oliver, edited by Daniel J. Murtaugh.
• At The Quietus this week: Tinariwen bassist Eyadou Ag Leche is interviewed by Richie Troughton, Jane Weaver unveils a new song from her forthcoming album, Modern Kosmology, and Danny Riley explores the strange world of Ben Chasny.
• "A micro-history of cultural gatekeeping: once told by the censors what we may read, then by critics what we should, we are now told merely what we can read." Ben Roth writing against the use of "readability" as a literary value.
• Yayoi Kusama's amazing infinity rooms are at the Hirshhorn Museum and Sculpture Garden, Washington DC, until May. For the rest of us, Peter Murphy's panoramic photo is still online.
• More music: my friends Watch Repair have become visible enough to be interviewed by an Argentinian website. The group's Bandcamp page recently made three new releases available.
• Yet more music: They Walk Among Us, a new song and video by Barry Adamson, and Anymore, a new song and video by Goldfrapp.
• Earth and The Bug announce Concrete Desert, a collaborative album inspired by Los Angeles and the fiction of JG Ballard.
• Bad Books for Bad People: Episode 7: The Incal – Epic French Space-Opera Comics.
• Mixes of the week: FACT Mix 589 by Aisha Devi, and Secret Thirteen Mix 212 by Qual.
• Eduardo Paolozzi's forays into fashion and furnishings.
• Cooking with Vincent [Price]
• Tin Toy Clockwork Train (1986) by The Dukes Of Stratosphear | Clock (1995) by Node | Clockwork Horoscope (2009) by Belbury Poly