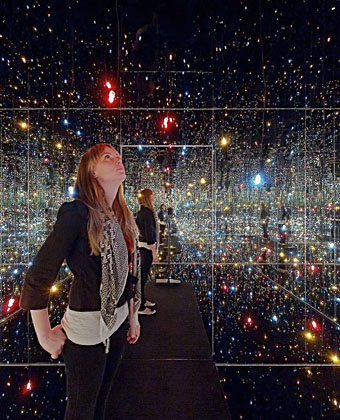 Fireflies on the Water by Yayoi Kusama (2002).
One of my favourite contemporary artworks, Fireflies on the Water by Yayoi Kusama, receives a new showing at Sydney's Museum of Contemporary Art. Her mirrored room features 150 lights and a pool of water and while most photos show an impressive work, none of them can match this fantastic 360º panorama by Australian photographer Peter Murphy. Kusama isn't the only artist to use mirrors this way but mirror rooms and reflective surfaces have become as much a recurrent feature of her work as her trademark spots.
Fireflies on the Water is being shown as part of the Yayoi Kusama: Mirrored Years exhibition and can be seen until June 8th, 2009. (Via Nevertheless.)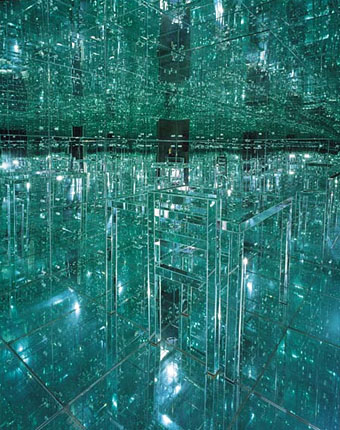 Mirrored Room by Lucas Samaras (1966).
I've often wondered how far back the invention of the fully-mirrored room can be traced. Halls of mirrors are historically common but the mirrors tend to be on the walls only. American artist Lucas Samaras produced his Mirrored Room (with mirrored chair and table) in 1966, something which fascinated me when I first encountered it in art books.
It evidently fascinated ex-art student Brian Eno who I'm sure must have borrowed the idea for the cover of his collaboration with Robert Fripp, (No Pussyfooting), in 1973. I've always assumed this was a room in Eno's home at the time but never seen that confirmed. Anyone know whether this is the case?
Elsewhere on { feuilleton }
• The panoramas archive
Previously on { feuilleton }
• The art of Josiah McElheny
• Yayoi Kusama
• The art of Yayoi Kusama
• Exposure by Robert Fripp