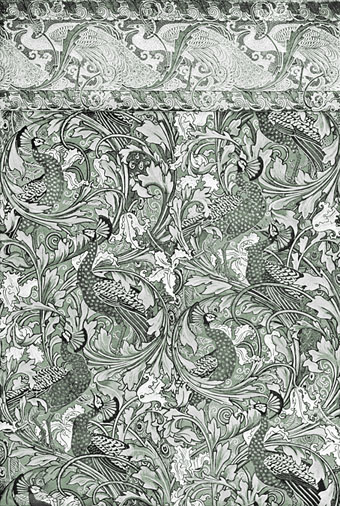 The Peacock Garden (1898) by Walter Crane.
• "The trio [Remedios Varo, Leonora Carrington & Kati Horna] became known as the 'three witches' for their exploration of the supernatural and metaphysical—which ranged…'from tarot readings to shamanic psychedelics to attempts to stop or slow time.'" Teresa Nowakowski on Remedios Varo: Science Fictions, an exhibition of Varo's paintings at the Art Institute of Chicago which includes the one that Thomas Pynchon singled out for description in The Crying of Lot 49.
• Philip K. Dick giving a lecture on "orthogonal time" to a small audience at the Festival International de la Science-Fiction, Metz, in 1977. Dick's talks and interviews aren't exactly scarce, but this one was of interest for me since I recently designed an edition of John Crowley's Great Work of Time, a novella which involves a similar concept. If you were at the Metz Festival in 1977 you could also see a live performance by Cluster. Lucky you.
• "Our minds remain open when the LSD wears off." Steve Paulson on psychedelic drugs and their usefulness as therapeutic tools.
• At Cartoon Brew: Stephen Irwin's animated films "combine the influences of David Lynch, Struwwelpeter, and the Brothers Grimm."
• Steven Heller looked at NB3, the third book about Neville Brody's graphic design. Elsewhere, Heller's font of the month is Scusi.
• The glowing, prismatic nervous system of a sea star wins the Scientific Image of the Year.
• At Unquiet Things: Forgotten worlds and wonderlands from The Art of Fantasy.
• "Don't waste my time with blood-free monster movies," says Anne Billson.
• At Aquarium Drunkard: King Tubby And Soul Syndicate — Freedom Sounds In Dub.
• Mix of the week is DreamScenes – August 2023 at Ambientblog.
• Time Machine (1970) by Stray | Time Captives (1973) by Kingdom Come | The Existence Of Time (2012) by Monolake