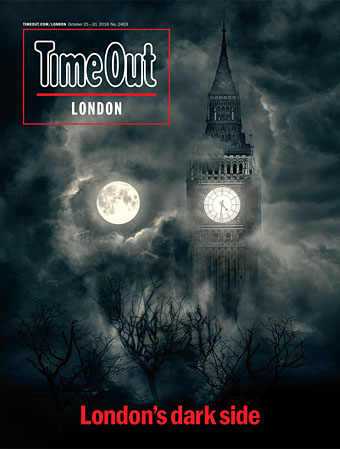 Time Out (London), no. 2403. No illustrator or designer credited.
• October isn't all about the dark, there's also psychedelia: Ned Raggett reviews a new collection of British psych, Let's Go Down And Blow Our Minds: The British Psychedelic Sounds of 1967, while Floodgate Companion, a forthcoming collection of art by Robert Beatty, is previewed here.
• Mixes of the week (aside from my own, of course): Samhain Seance 5: Invasion of the Robot Witch by The Ephemeral Man, Thee Finders Kreepers Halloween Spezial, and Secret Thirteen Mix 199 by Blue Hour.
• "No diggin' 'ere!" Adam Scovell revisits the ghostly locations of the BBC's A Warning to the Curious, and presents a short film based on the same.
• Stanley Kubrick's film of The Shining has lost its shine through endless quotation and over-familiarity, says Anne Billson. Hard to disagree.
• Between Ballard's Ears: in which two short stories by JG Ballard—Track 12 and Venus Smiles—are dramatised in binaural sound.
• John Carpenter talks to Adam Woodward about remakes, his love of early synthesisers and why nostalgia works in mysterious ways.
• Next month at the British Library: Brion Gysin: A Centennial Invocation with Alan Moore, Iain Sinclair, Barry Miles and others.
• Peter Bebergal on the Fraternity of the Rosy Cross, "a shadowy medieval brotherhood that probably didn't exist".
• Until The Hunter, a new album by Hope Sandoval and The Warm Inventions, is streaming here.
• San Fran-disco: Geeta Dayal on how Patrick Cowley and Sylvester changed dance music forever.
• A small portion of Bill Laswell's vast back catalogue is now on Bandcamp.
• At MetaFilter: The strange history of books bound in human skin.
• Italian composer Fabio Frizzi remembers 50 years of cult horror.
• Matthew Cheney on the strange horrors of Robert Aickman.
• Jóhann Jóhannsson's favourite records
• Dark Start (1995) by ELpH vs Coil | Darkstalker (2000) by Bohren & Der Club Of Gore | Dark (2012) by Moritz Von Oswald Trio