Having followed the development of Google's Street View from the outset I couldn't really avoid noting this new addition. The effortlessly photogenic city of Venice deserves the Street View treatment more that most cities, and while Google hasn't explored every last corner there are enough canals, piazzas and streets photographed to allow some serious derives. If I wasn't busy at the moment chasing an illustration deadline I'd be spending some time clicking my way around the place.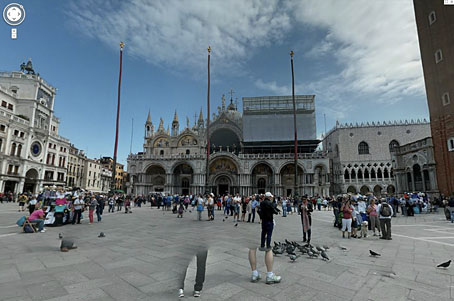 Piazza San Marco.
The Google blog has more information about the extent of the work and points the way to some less well-known areas. Below you'll find my directions to a location from Don't Look Now.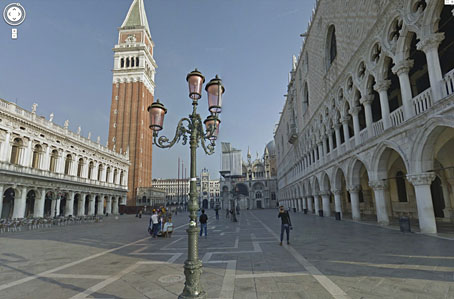 Piazza San Marco.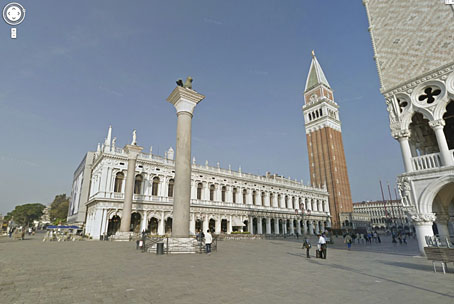 Riva degli Schiavoni.
Donald Sutherland and Julie Christie, 1973.
This small canal-side corner shows part of the exterior of the church of San Nicolò dei Mendicoli, familiar from Nicolas Roeg's Don't Look Now (1973) as the place where Donald Sutherland's character is conducting his restoration work. The church seems in better shape today, although Google's cameras (and the difference in lenses) make the area seem a lot smaller than it does in the film. Anyone wishing to trace more Don't Look Now locations can find them listed here.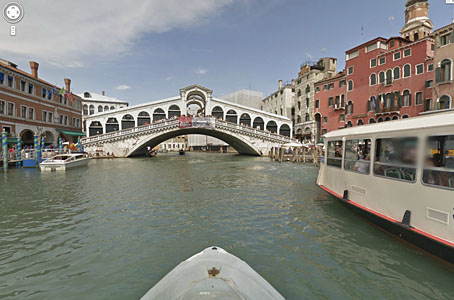 Rialto Bridge.
Previously on { feuilleton }
• Top of the world
• Repulsion locations
• In the Village
• Venice panoramas