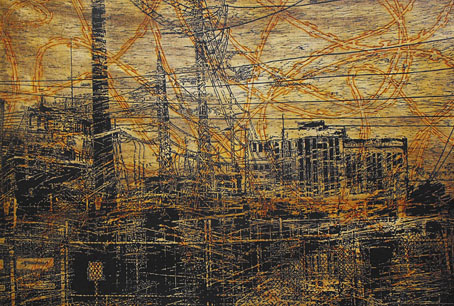 Edge of Industry (2009) by Anne Starling.
• "In her darkroom with her silver salts and gelatine plates, she experimented with the mercurial effects of light, time and temperature." Hailey Maxwell on the photographic art of Dora Maar.
• A Visionary Work Renew'd: A conversational review of Swan River Press edition of William Hope Hodgson's The House on the Borderland by the late Sam Gafford & The joey Zone.
• Brian Blomerth's graphic novel Bicycle Day tells the story of the psychedelic ride made in 1943 by Swiss chemist Albert Hofmann while he was researching LSD.
• "The cinema is not the industrial cinema. The cinema is independent cinema." Francis Ford Coppola on Apocalypse Now and related matters.
• More lunacy: "Fireworks, wild swans and super-cannons were propelling people mentally Moonwards long before 1969," says David Seed.
• Mix of the week: Then Beautiful Swift Sparrows Led You Over the Black Earth by The Ephemeral Man.
• Working (You Are), a new recording by Stephen Mallinder, his first solo work since Pow Wow in 1982.
• Lost Proust stories of homosexual love finally published (but only in French for the moment).
• Oren Ambarchi's favourite albums.
• My White Bicycle (1967) by Tomorrow | Trip On An Orange Bicycle (1968) by The Orange Bicycle | Blue Bicycle (2008) by Hauschka