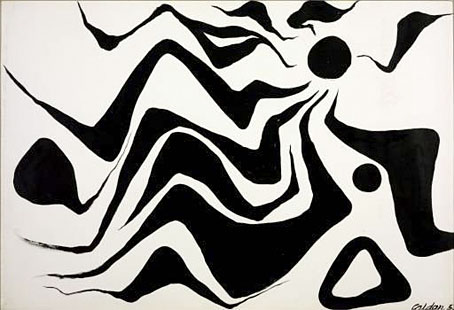 Black Sun (1953) by Alexander Calder.
• "But Berlin Alexanderplatz transcends its genre elements, largely because of Döblin's deep lack of hope about what can be expected of human beings." Adam Kirsch on Alfred Döblin's Berlin.
• "I occasionally dream of finding books that do not seem to exist (yet), and sometimes remember their titles," says Mark Valentine.
• "I don't read fiction." He does, however, own 11,000 books. Alan Garner on writing a memoir of his wartime childhood.
What is it that I really like? I mean that's the question that I think every musician and artists and everybody actually, is asking themselves; what they really like. And that means the emphasis is on REALLY like, meaning how do you push aside what you've been told, what you've been taught, what your friends like, and how much you like something because your friends like it or because it's socially popular at the moment, or your girlfriend likes it or any of those ideas.

Jon Hassell (again) in an interview at Ableton
• How Alexander Calder sparked a modern fascination with mobiles (sculptures, that is, not telephones).
• Deep in Italy, one man's Surrealist mini-city sleeps: Francky Knapp on Tomaso Buzzi's La Scarzuola.
• "Even before electricity, robots freaked people out": Lisa Hix on the history of clockwork automata.
• Nicolas Winding Refn's website devoted to neglected/abandoned films was launched this week.
• Mixes of the week: FACT Mix 664 by Lucy, and XLR8R Podcast 552 by Thomas Fehlmann.
• Jean-Paul Goude's best photograph: an androgynous Grace Jones.
• Marquis de Sade: 112 pages, 100 erotic illustrations.
• The world's most beautiful libraries
• Sade Masoch (1968) by Bobby Callender | I've Seen That Face Before (Libertango) (1981) by Grace Jones | Black Sun (2011) by Demdike Stare