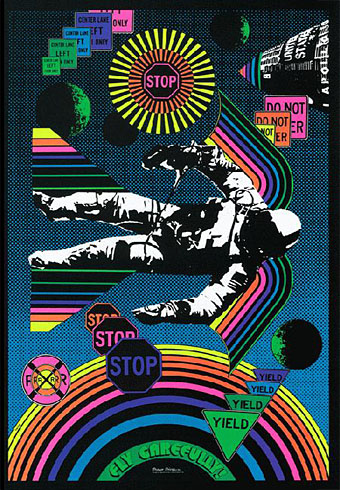 Fly Carefully (1969) by Stanislaw Zagorski.
• Video of Tuxedomoon live in San Francisco, Rotterdam and Paris, 1983 (or try this copy), and a late-night German TV broadcast from 1985. The first Tuxedomoon album, Half-Mute, has been reissued by Crammed Discs with an accompanying album, Give Me New Noise: Half-Mute Reflected, featuring cover versions of the songs by various artists.
• More end-of-year reviews: Dennis Cooper's recommendations are always eclectic (and thanks again for the blog shout!); not necessarily the best ambient and space music of 2016 by Dave Maier; a review of the year by graphic designer Jonathan Barnbrook; the 15 finalists of the 2016 Art of Building architectural photography competition.
• The Complete Stories of Leonora Carrington will be published in April 2017 by Dorothy. Related: Letters, Dreams, and Other Texts by Remedios Varo will be published next year by Wakefield Press. Also of interest on that page is a new edition of Haschisch by Oscar AH Schmitz illustrated by Alfred Kubin.
• The week in Things (see this post): John Carpenter's The Thing: The Story of an SF Horror Game-Changer. Ennio Morricone's score will be infecting the vinyl world next year. Meanwhile, Matthew Thrift recommends "10 great films set in the Arctic and Antarctica".
• Mixes of the week: FACT mix 581 by Pan Daijing, XLR8R podcast 468 by Jan Jelinek, and Secret Thirteen Mix 203 by Blood Sport.
• A Year In The Country on Monumental Follies (1972), a book about architectural eccentricity by Stuart Barton.
• William Burroughs reads 23 random paragraphs from Naked Lunch each time you load this page.
• "The world is terrifying and destructive and dehumanising and tragic," says Charlie Kaufman.
• Scents and sensuality: William Dalrymple on the perfumes of India, past and present.
• Brenda S G Walter on Hill House: The haunted soul of Shirley Jackson.
• A trailer for Dome Karukoski's Tom of Finland. There's more here.
• Illustrating the Sixties: Paintings by Italian artists in London.
• Michael Rother and Cavern Of Anti-Matter live in Berlin.
• Network 23 (1981) by Tangerine Dream | Exit 23 (1989) by Psychick Warriors Ov Gaia | Studio 23 (2012) by The Time And Space Machine