Reverbstorm: 1994–2012.
Art, intellectual pursuits, the development of the natural sciences, many branches of scholarship flourished in close spacial, temporal proximity to massacre and the death camps. It is the structure and meaning of that proximity that must be looked at. […] But there is a […] danger. Not only is the relevant material vast and intractable: it exercises a subtle, corrupting fascination. Bending too fixedly over hideousness, one feels queerly drawn. In some strange way the horror flatters attention, it gives to one's own limited means a spurious resonance. […] I am not sure whether anyone, however scrupulous, who spends time and imaginative resources on these dark places, can, or indeed, ought to leave them personally intact. Yet the dark places are at the centre. Pass them by and there can be no serious discussion of human potential.

George Steiner, In Bluebeard's Castle: Some Notes Towards the Re-definition of Culture (1971)
Reverbstorm is an eight-part comic series which I began drawing in 1990. Last week I finished work on the final section, and also completed the layout and design for the collected edition, a 344-page volume which Savoy Books will be publishing later this year. All the artwork has been scanned afresh, re-lettered and, in a few places, improved to fix compromises and print errors present in the published issues. This unfinished project has been hanging over me for so long that I make this announcement with some relief. The book will be published without a foreword so this post can serve as an introduction for the uninitiated. But before I get to the details, some history.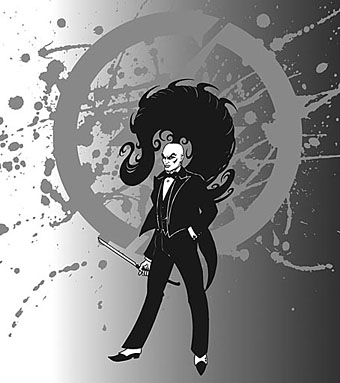 David Britton was the writer and instigator of Reverbstorm, the series being a continued exploration in the comics medium of his Lord Horror character. Lord Horror is an alternate-history equivalent of the real-life William Joyce, a member of the British Union of Fascists in the 1930s whose propaganda broadcasts to Britain from Nazi Germany during the Second World War led the press to dub him Lord Haw-Haw. The first five-part Lord Horror comic series, Hard Core Horror, showed the evolution of Horace William Joyce, aka Lord Horror, from charismatic politician to Nazi collaborator; the final two issues of the series concerned Horror's involvement in the Holocaust. In Britton's mythos James Joyce is the brother of Horace Joyce while Jessie Matthews, a popular British musical star of the 1930s, is Lord Horror's wife. (Britton's Lord Horror novels are examined in detail by Keith Seward in his Horror Panegyric essay.) My fellow artist at Savoy, Kris Guidio, drew the first four issues of Hard Core Horror; I drew issue five which was less a comic story, more a portfolio of static scenes of death-camp architecture. The series was well-received by regular Savoy readers but mostly ignored by the British comics world, with some justification: the comics were a glossy production but the narrative was very erratic, even technically inept in places. At Savoy the series was regarded as a failed experiment, Kris's drawing style and flair for cartooning being more suited to the broad humour of the Meng & Ecker strips. But Dave liked what I'd done with the final issue and felt we could try something new that was also more original than a fictional skate through recent history.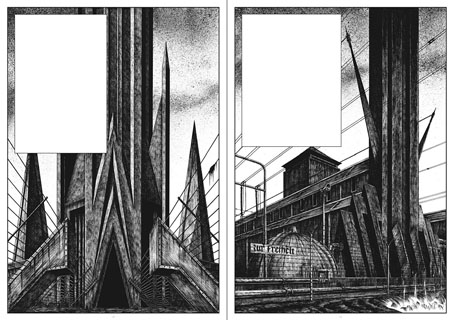 In addition to producing comics in the late 1980s, Savoy had been recording a number of eccentric cover versions, most of them sung by PJ Proby. A music journalist, Paul Temple, came to interview Proby about the songs and stayed in touch. He subsequently approached the company with a song of his own entitled Reverbstorm, a bombastic number best described as "Wagnerian Northern Soul" which Savoy recorded in 1993. (Temple recounts the origin of the song here.) This gave a title to the new comic series that Dave was planning, the story outline being expanded from a scenario that he and Savoy colleague Michael Butterworth had sketched out when a film company showed some fleeting interest in Lord Horror. Kris Guidio and I worked on the opening pages, the initial idea being that Kris would continue drawing the Lord while I would do everything else. Once I'd convinced Dave that I could draw his Lordship to his satisfaction I took over the series while Kris carried on with the Meng & Ecker comics. I spent most of 1991–1996 drawing the first seven parts of Reverbstorm which were published as separate comics during that period. The first issue came with a CD single of Paul Temple's song which was sung by Sue Quinn but credited to Jessie Matthews. (It's now available on iTunes.) The last part of the series was always going to be something that differed from the preceding sections but I didn't know how this might manifest until 1997 when I painted a series of monochrome double-spreads intended to form backgrounds for Dave's text. That's where the series stalled after the paintings had improvised themselves to such a degree of abstraction and incoherence that I didn't feel able to continue. The breakthrough came a couple of years ago when I started scanning all the artwork into the computer and thinking again about the series. I realised I could complete everything now that my computer graphics skills were adequate enough to complement the earlier issues whilst also adding something new.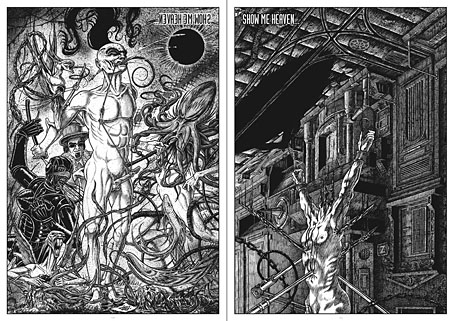 May it please Heaven that the reader, emboldened, and become momentarily as fierce as what he reads, finds without loss of bearings a wild and sudden way across the desolate swamps of these sombre, poison-filled pages. For unless he bring to his reading a rigorous logic and mental application at least tough enough to balance his distrust, the deadly issues of this book will lap up his soul as water does sugar.

Lautréamont
The opening words of Les Chants de Maldoror could well be applied to Reverbstorm, the collected edition of which many people will regard as a thoroughly indefensible book. Reverbstorm is indefensible from its opening pages which reprise the final issue of Hard Core Horror's death-camp architecture. These drawings project the mean and squalid actuality to a level of the sublime (in the Burkean sense) which few would argue is suitable treatment for such a sensitive subject. Reverbstorm is indefensible in then taking these renderings as a model for an invented city, Torenbürgen, which blends the architecture of Art Deco New York with the metropolitan speculations of Hugh Ferriss and Piranesian death-camp machinery: vast ovens, belching chimneys, furnaces that could reduce whole populations to ash. Reverbstorm is indefensible in presenting Torenbürgen as the stage for Lord Horror's atrocities. The narrative opens with an epigraph from The Pilgrim's Progress: "Delivered Under the Similitude of a Dream…"; what follows may be regarded as the central character's dreamscape. Jessie Matthews and James Joyce are secondary characters so we have text from Finnegans Wake—another dream narrative—providing a continual background radiation throughout. Lastly, Reverbstorm is indefensible because it does all of this in the reprehensible form of a comic book. It doesn't matter how many copies of Maus or From Hell or Joe Sacco's Palestine you wave around, comics in the Anglophone world have always been viewed as the lowest medium there is, suitable only for trashy and garish adventure stories. That our book is in part a trashy and garish adventure story hardly helps matters.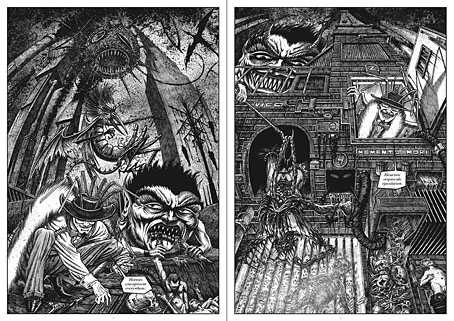 So Reverbstorm is Lord Horror's dream of the ideal place to live: the whole world as a death-camp playground crawling with victims for his razors, all of whom he regards as Jews whatever their actual ethnicity. This last point—the up-front anti-Semitism of the central character—has always been the most contentious feature of the Lord Horror stories: take away the Fascist origins and few people would ever have complained about David Britton's books or comics. Think for a moment of any well-known violent character whose speech and actions have become fetished over the years—Alex in A Clockwork Orange, Travis Bickle, Freddy Krueger, Hannibal Lecter, the countless gangsters in films and television—then consider whether these characters and their catch-phrases would be so readily adopted if they were wearing swastika armbands. People prefer their cannibals, murderers and psychopaths to be untainted by politics. Making a Fascist the central character isn't an unusual move in literature—Jonathan Littell's The Kindly Ones is only the most recent example—but doing this in other media is viewed with suspicion unless everything around the character telegraphs stern disapproval in the required manner.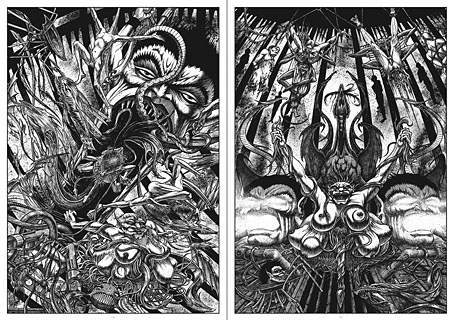 I once described Reverbstorm somewhat facetiously as "a psychopathology of heroic fantasy", and even though the series isn't so coherent or analytical there is a strain of critique running through the narrative. Lord Horror was born out of David Britton's enthusiasm for Tarzan, John Carter, Elric and other characters who rampage through their imaginary worlds hacking and slashing their foes with blades. Reverbstorm takes this hacking and slashing to outrageous, ludicrous extremes: I was inspired in this by Philip José Farmer's reductio ad absurdum of the Tarzan and Doc Savage stories in A Feast Unknown, where the sex, violence and sexual violence are pushed to absurd levels. It's no exaggeration to say Reverbstorm goes further than Farmer: it's insanely violent, frenzied, hysterical. For my part I was only trying to match the frenzy and hysteria in much of Dave's written fiction but the madness was also an attempt to create something in pictorial form that matched the unrelenting weirdness and outrageousness of Maldoror or The Naked Lunch. Whether I succeeded is for others to decide. We created the story in an improvised manner, following the vaguest outline and proceeding page-by-page. This meant that the series developed more organically than the usual process of comics writing in which a script is created screenplay-fashion before being passed to an artist. Consequently Reverbstorm could follow detours in a manner that would have been difficult or even impossible to plan beforehand. In drawing terms this book comprises the best black-and-white art I've done or am likely to do. It exceeds the work I did in the Lovecraft comics by taking my art into places I never expected to go.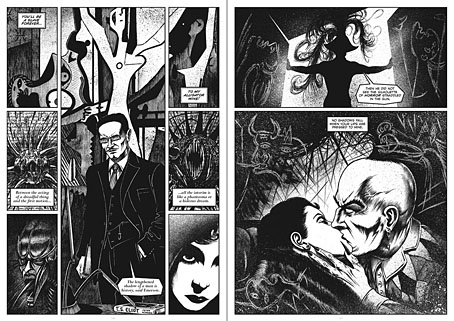 Reverbstorm also features copious references to the art and literature of the first decades of the 20th century. As well as James Joyce, references are made to TS Eliot, a poet whose anti-Semitism continues to stain his reputation, while Picasso's paintings and drawings form an ironic counterpoint to many of Lord Horror's speeches and activities, especially the recurrent anti-Fascist motif of Guernica. If you want a critique of the madness then this is it, although that critique only works for those readers who know something about Modernist art and literature. Reverbstorm is an allusive collage along the lines of Eliot's The Waste Land but hardly any readers of the serialised issues noticed this or tried to make sense of the references. This seems to be a problem again with the Anglophone comics world: the medium is so glutted with superhero garbage (and so many comic shops fill their windows with toys) it drives away any audience who might be more receptive to ambitious work aimed at adults. For those who feel intimidated by the references, the book edition will include an appendix with several pages of notes.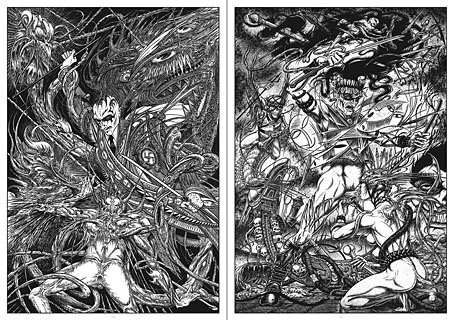 Reverbstorm is at long last ready to be delivered to the printers but a release schedule hasn't been decided yet so I can't say when the publication will be. The printed volume will be a dust-jacketed hardback, price still to be confirmed. Any news will be announced here, of course. In the meantime, I've posted a preview of the interior which includes artwork from the end of the series being made public for the first time. This book isn't for everybody: "only the few may relish this bitter fruit without danger". George Steiner would hate it but then he hated The Naked Lunch as well. Bitter fruit has always been an acquired taste.
Related posts:
• A Reverbstorm jukebox
• Reverbstorm: Bauhaus Horror
Previously on { feuilleton }
• Philip José Farmer, 1918–2009
• Hugh Ferriss and The Metropolis of Tomorrow
• My pastiches