Another in a series of posts that supplement the forthcoming Reverbstorm book. Music, especially the rock'n'roll of the mid-50s to the mid-60s, was an important motor in Reverbstorm's creation: the title comes from the lyrics to Paul Temple's song, and the song itself was included as a CD-single with the first issue. Each issue opened with a playlist of ten pieces of music offered as a complement to the narrative. We alternated the choices: David Britton chose the first ten, I chose ten for the second issue and so on. Dave's choices were mainly the rock'n'roll he's been listening to all his life while I tried to balance this with a more eclectic selection. But in Reverbstorm itself it's the rock'n'roll that's referenced the most, and it was this era of music we were both listening to a great deal during the composition of the series.
What follows is a guide to some of the songs and instrumentals referred to in the book, together with some of my favourite tracks from a compilation tape I used to play repeatedly while I was drawing. A few of these tracks are very obscure one-off singles so this list serves an additional function in saving people the trouble of hunting around.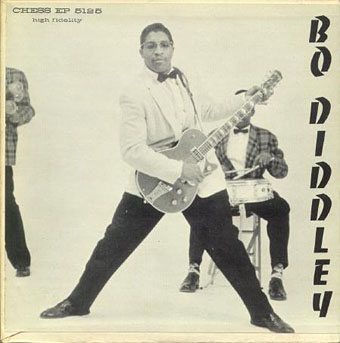 Bo Diddley (1955) by Bo Diddley
Part 3 of Reverbstorm, "The Big Beat of Apes", is subtitled "Bo Diddley meets William Hope Hodgson", and it's to the Bo Diddley Beat that we're referring. Diddley recycled his highly influential riff/rhythm many times, and inspired many cover versions, pastiches or outright thefts. A heady mix of these may be heard on one of the key albums for the creation of the series, a 1989 vinyl-only compilation entitled Bo Did It! which gathered seventeen obscure Diddley Beat singles. A couple of these are listed in Lord Horror's radio playlist seen in part two, while others are present in this list. But this Bo Diddley song is where it all begins.
Bottle To The Baby (1956) by Charlie Feathers
Classic hiccoughing rockabilly and a favourite of Savoy cult band The Cramps who covered Feathers' I Can't Hardly Stand It. Bottle To The Baby gets a mention in part 3 while Charlie himself is quoted in part 8.
The Monkey (Speaks His Mind) (1957) by Dave Bartholomew
A moral tale from Mr Bartholomew, also quoted in part 3.
Esquerita And The Voola (1958) by Esquerita
Often cited as the guy that Little Richard stole all everything from, the very flamboyant Eskew Reeder Jr had an erratic career which yielded this berserk highlight, the B-side of his Rockin' The Joint single. I first heard this when Dave played it in Savoy's Peter Street shop one day and couldn't believe how crazy it sounded. It's also hard to believe it was on a major label. Play loud.
Hootchy-Koo (1958) by Larry Williams
Larry Williams was the prince of big bawdy numbers like this, and a favourite of The Beatles who covered three of his songs. The version I used to listen to was a slightly different demo recording (not on YT, unfortunately). Lucy Swan liked Hootchy-Koo so much she mentions it in her Lord Horror-related novel The Adventures of Little Lou.
Rumble (1958) by Link Wray
The ultimate swaggering riff and the moment where the guitar takes over from the saxophone as the locus of menace in popular music. Most people have probably heard this in the background of the Jack Rabbit Slim's scene in Pulp Fiction but you'll find it elsewhere, notably a Ry Cooder cover version in Streets of Fire, the highlight of an otherwise lacklustre film.
Alligator Wine (1958) by Screamin' Jay Hawkins
The witches' recipe from Macbeth gets reworked by Leiber & Stoller as a swampland love potion for Screamin' Jay.
Storm Warning (1959) by Mac Rebennack
Before a bullet ruined one of his fingers, Dr John was guitarist Mac Rebennack whose early career produced some impressive singles such as this Diddley Beat instrumental. That title is now impossible to disassociate from the devastation wrought by Hurricane Katrina in 2005.
Tall Cool One (1959) by The Wailers
The Wailers, a Seattle group, are often listed now as The Fabulous Wailers to distinguish them from Bob Marley's group. They had a knack for catchy instrumentals; in addition to this there was also Mau Mau.
Wang Dang Doodle (1960) by Howlin' Wolf
Given a choice between this version of Willy Dixon's song and the later Koko Taylor recording (which includes Dixon on vocals) I'd probably choose Koko's but the Wolf came first, and this was the one Dave listed in the first issue of the series.
I Want Some of That (1961) by Kai Ray
One from the Lord's playlist in part 2.
Let There Be Drums (1961) by Sandy Nelson
Sandy Nelson made a career out of recording drum instrumentals. This thundering opus is his finest moment.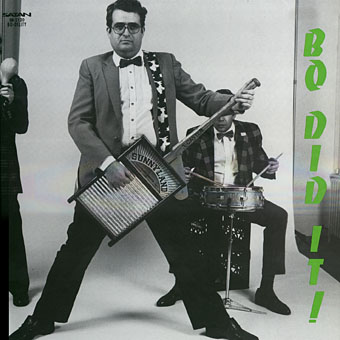 Bo Did It! (1989)
Boom Stix (1962) by Curley and The Jades
Who the hell were Curley and The Jades? Don't ask me but this obscure single from the Bo Did It! collection manages to weld a Sandy Nelson drum break to the Diddley Beat.
Papa-Oom-Mow-Mow (1962) by The Rivingtons
One of the great nonsense hits, and endlessly imitated afterwards, the title gets a mention in part 2. Kim Fowley had something to do with the release so it's fitting that he's wound up with Savoy as well, having written the insert notes to the recent Fenella Fielding album.
Surfin' Bird (1963) by The Trashmen
Of all the copyists and imitators that chased The Rivingtons' success none can approach these two minutes and twenty seconds of demented genius.
The Fourth Dimension (1964) by The Ventures
I find a little of The Ventures' twanging instrumentals usually goes a long way, like many of these groups they work best on compilations. But I do like The Ventures in Space which is where this spooky David Lynch-style number originates.
Strychnine (1965) by The Sonics
Psycho would have been the obvious choice here but I tried to avoid being predictable. Everything The Sonics recorded sounds cranked to the point of distortion, and this is no exception. Garage punk at its wildest.
Bop Diddlie In The Jungle (1966) by Tommy King and The Starlites
Another track from Lord Horror's playlist found on the Bo Did It! collection, this is Bo's Diddley Daddy relocated to a jungle setting.
Electricity (1967) by Captain Beefheart and his Magic Band
The whole of Reverbstorm is dedicated to Trout Mask Replica but this was a track from one of my playlists. A compelling argument for why there should be more theremins in pop music.
I Wanna Be Your Dog (1969) by The Stooges
Lust For Life was the album I was playing a lot whilst drawing but this song was another of Dave's choices. One of the Savoy "Lord Horror" singles in the 1980s was a cover of Raw Power.
Garbageman (1980) by The Cramps
And another of the Savoy "Lord Horror" singles was a cover of this unstoppable beast from The Cramps. "Do you want the real thing, or are you just talkin'?"
Previously on { feuilleton }
• Reverbstorm: Bauhaus Horror
• Reverbstorm: an introduction and preview