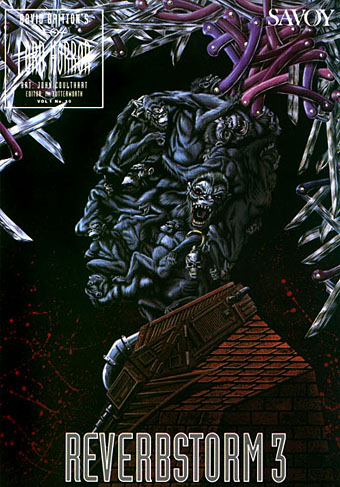 Lord Horror: Reverbstorm #3 (1992).
Following from the post about an art forgery exhibition (and Eddie Campbell discussing his American Gothic cover for Bacchus), I thought I'd post some of my own forgeries, or pastiches as we call them when no deception is intended.
Reverbstorm was the Lord Horror comic series I was creating with David Britton for Savoy in the 1990s. The Modernist techniques of collage (as in the work of Picasso and others) and quotation (as in TS Eliot's The Waste Land) became themes in themselves as the series developed, so it seemed natural to imitate the styles of various artists as we went along. Pastiche is also a chance to flagrantly show off, of course, and I can't deny that this was also one of my impulses here.
Issue #3 of Reverbstorm had marauding apes as its theme, from the Rue Morgue to Tarzan and King Kong, so I had the idea of doing an ape cover in the style of the celebrated paintings by Giuseppe Arcimboldo (1527–1593) which make human heads out of fruit, flowers or animals. Easy enough to have the idea but making it work took a lot of effort and required careful sketching beforehand, something I rarely do. The painting was gouache on board, a medium I'd been using for years and this was about the last gouache work I did before switching to acrylics.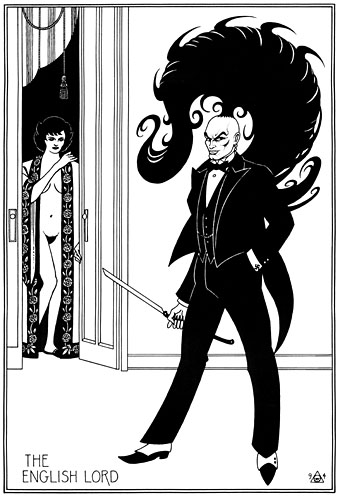 Lord Horror: Reverbstorm #4 (1994).
Despite admiring Aubrey Beardsley's work for years, this was the first time I attempted to consciously imitate his style. The end result has never looked all that Beardsley-esque to me (see another attempt below) but it did produce one of my best Lord Horror drawings.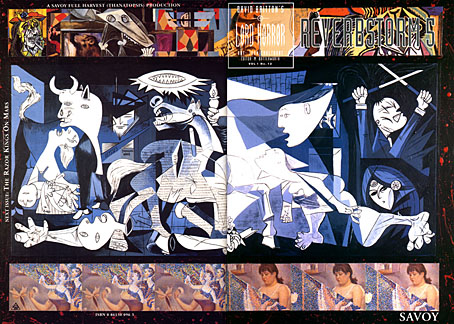 Lord Horror: Reverbstorm #5 (1994).
Reverbstorm #5 is the Picasso issue and the story switches drawing styles throughout using variations on different periods of Picasso's career. The cover spread was a riff on Guernica which is a key motif in the series as a whole. This was acrylic on board, with some chopped-up postcards collaged at the top and bottom. You can see James Joyce's head beside the bull on the left and Lord Horror and Jessie Matthews (based on the interior panel below) on the far right.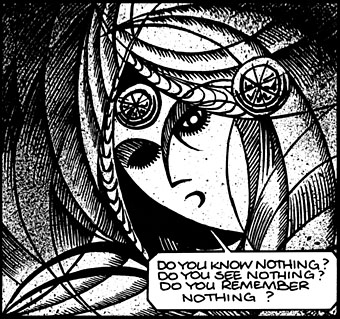 Jessie Matthews in Reverbstorm #5.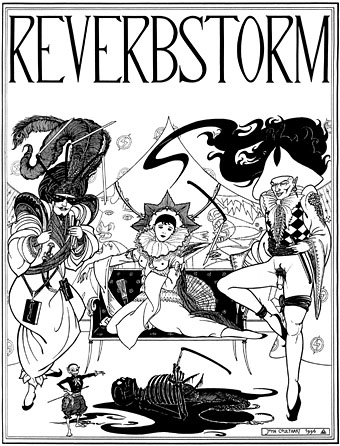 Lord Horror: Reverbstorm #6 (1996).
The second Beardsley pastiche with James Joyce, Jessie and Horror in masquerade costumes. The bull and horse from Guernica can be seen stipled into the background. Michael Moorcock included this drawing in the 50th anniversary edition of New Worlds magazine. (The date for this is later than the pictures below since two issues were created out of sequence, a typical piece of Savoy unorthodoxy.)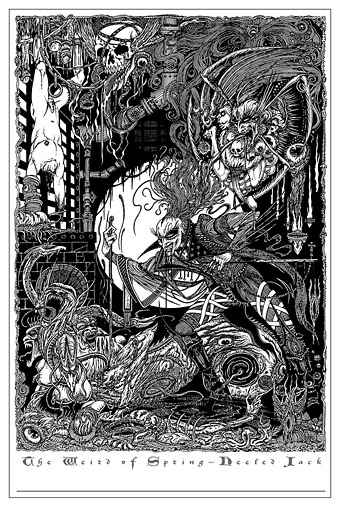 Lord Horror: Reverbstorm #6 (1995).
At the end of issue 6 we see Joyce take a book down from a shelf, The Weird of Spring-Heeled Jack, written by his brother (William Joyce/Lord Horror in this mythology). The book is labelled as being illustrated by Harry Clarke which was my idea when I decided I wanted to do a Clarke pastiche. As with the Arcimboldo painting, having the idea was the easy part, the actual drawing took about two weeks to complete.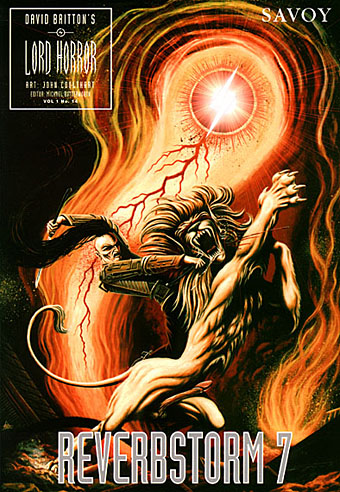 Lord Horror: Reverbstorm #7 (painted 1994; issue appeared 2000).
This painting is an attempt at doing comic artist Burne Hogarth (copying his famous drawing of Tarzan astride a raging lion) in the style of fantasy artist Frank Frazetta and is acrylic on board again. I'd originally put one of my perennial black suns at the top of the picture but amended that later in Photoshop by filling it with the Reverbstorm lightning flash and a flare effect.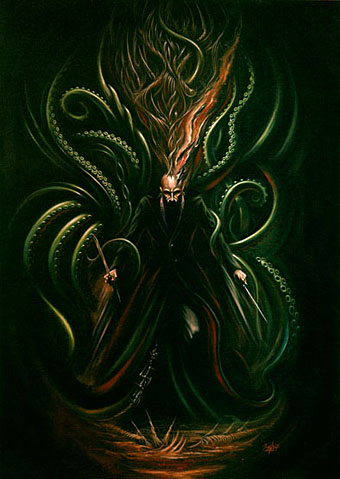 Baptised in the Blood of Millions (painted 1997; book published 2001).
When I came to do the cover for David Britton's third Lord Horror novel he gave me a sketch he wanted reproduced in the style of Frazetta so I went all out with this one and did a big acrylic painting on canvas. The end result is more Frazetta-like than the Reverbstorm cover (it owes a lot to Frazetta's Bran Mak Morn painting) and also contains some Francis Bacon-like smears which Dave was very pleased with.
The tentacles in this painting have led it to being incorporated in my Lovecraft volume, The Haunter of the Dark, along with a selection of other Lord Horror pieces including the Harry Clarke drawing. Meanwhile Reverbstorm is slowly being reworked as a single volume, other work permitting, although the completion date for that is still some distance away. Naturally, any news about it will be posted here in due course.
Previously on { feuilleton }
• T&H: At the Sign of the Dolphin
• Fantastic art from Pan Books
• Guernica, seventy years on
• The art of Harry Clarke, 1889–1931